Wedding Gifts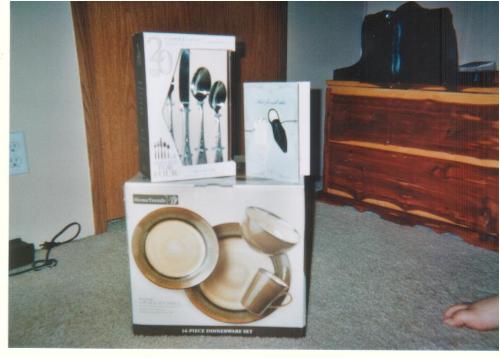 United States
October 29, 2009 1:51pm CST
These are the gifts that we got for our wedding. The plates and silverware are what we wanted. We also have a picture somewhere of the gift his mom got us which is salt and pepper shakers. I like the gifts! Our home will be western themed, do you think the plates go along with that theme?What do you think?
5 responses

• United States
1 Nov 09
Cool! If I got your discussions I'd know way more about all this. lol It drives me nuts that I miss so many of my friends discussions. I have to remind myself sometimes to go look up the people I know that I'm not getting their notifications. So did you get most of the things on your list? Plates and silverware are big things to me too. I still don't have any silverware. I bought some cheapies at a discount store, but all the dishwashing in the world couldn't keep them from staining. So I threw them out and now use plastic silverware. You'll get a kick out of this. I ran out of silverware last week, didn't even have a knife. I ate the pasta I made for dinner (I had forgotten about utensils until after I was done cooking) with tongs. You know salad tongs. It was definitely an experience.

• United States
1 Nov 09
I don't think I've ever gotten cheapo silverware, but we've gotten cheapo can opener and they broke, so we went for the more expensive oens. The cheapo can opner came from the dollar store, so go figure, right? I would have probably eaten the pasta with tongs too though, lol either that or a big cooking spoon (the plastic ones) I am sure that was an experience! If we hadn't of gotten this silverware I am sure we would have gotten some from wal*mart, or from my grandparents. We're still living at home with his parents, so we can spend as we wish, lol... Not without an eyebrow raised though!

• India
1 Nov 09
The picture is very beautiful and so are the gifts. Any gifts given with love has to go well with any theme. Hope you will cherish them for ever. Wish you a very happy married life. Hope you will fill your home with plenty of love.

• United States
1 Nov 09
Those gifts were given because of a registry we had. We had picked out said gifts in hopes that someone would buy them, and they had. We're very happy to receive them and will cherish them. Now, back to my question, given that you now know they were picked out by us, do you think they go well with a western (cowboy) theme? We will cherish each other, and our home. I appreciate your response.

• India
1 Nov 09
Matching anything 100% will be high-nigh impossible, not only to achieve but also to afford. Having said that, the gifts you have chosen and received, and judging from the color on the box, should not find itself out of place in a western (Wild West) themic surrounding as it will immensely complement the wood and rustic decor and environment you will choose to set it in. However, it would serve you in good stead if you use it sparingly for important guests and for your day to day usage get some lacquered top wooden dinner sets available from any Asian shops in your locality, as these would be idyllic. Anyway, don't fret over it because like mentioned before, your pragmatic mindset and million dollar smile would make the most onerous article look like a gift from the Magi. God Bless.

• United States
29 Oct 09
Yeah those are the only gives other than the salt and pepper shaker that we got that was on our wedding registry lol,most people took the easy way out,I love the gifts and our house will be western themed,and we already have a bunch of boots and stuff that we can decorate our house with,and I think it is a really good picture,and I hope you get a ton of responses,I love you.

• United States
29 Oct 09
You make it seem as if we got the salt and pepper shaker that was on the registry. While we did get a salt and pepper shaker it was not the one that was on the registry. The one we did get goes better with the theme of what our house will be, and I rather like the salt and pepper shaker myself.

• United States
29 Oct 09
I did not mean for it to sound that way,and it is not the one that we put on our registry ,the one we got is even better and I like it better than the one we had put on our registry and I am glad my mother got it for us,I love you.

• United States
30 Oct 09
Nice of you to share the pictures of the Gifts you got for your wedding, and I think these will go nice in your house. I hope you enjoy your Married life, and have many more wonderful years to come. Looking forward to seeing other pictures you want to show here as well.

• United States
1 Nov 09
My husband and I were really glad to get the silverware and plates we wanted. In fact, that was the only thing we got from the registry. We didn't tell many people because we went by "if they ask, they'll be told". These gifts came from a nice couple that my mother in law babysits for.

• India
29 Oct 09
We can gift them any kitchen Items or else we can gift them anything which will help the new married couples to start married life well. It will be fine if we gift some money putting in the envelope cover.

• United States
29 Oct 09
I greatly appreciate your response and wanted to welcome you to mylot. Your english is very good though I can tell that it is not your native language. I feel that you did not understand what I was asking in my discussion though, so I ask that you please read back over it and what you don't understand please feel free to ask me. Did you see the photo attached to the discussion?