rage against the machine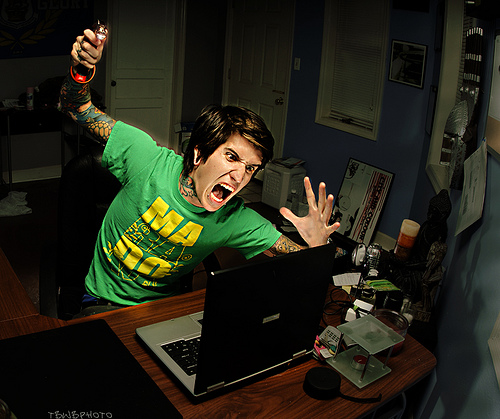 Canada
October 31, 2009 3:36am CST
hear yeah guy! it's time to tell the truth:what do you do when your computer crashes? curse the computer? give cpu a kick? or even smash the key board?if your anwer is 'yes', you had about of computer rage, and your not alone co'z i just smash my keyboard and replace it, so here i'am feeling stupid to what i did

, now i'm reading this article about rage against the machine, did you know that every minute their are more than hundreds of people suffering from rage against machine/computer. it is not only the computer crash itself that causes grievances. many people are simply irritated over the amount of time and costly measure to fix the problem and another co'z of frustration is the computer jargon that many technical support team/TIER are using, it just makes the problem worse...so do you feel rage against your machine if you can't fix it and your work is disrupt?

3 responses

• Philippines
31 Oct 09
and i thought this was a discussion about the band of zach dela rocha...rage against the machine. lol!!! seriously, bart, don't let your emotions get the best of you. i know it can be frustrating and i have had my own share of computer rage but i've always managed to go through each one unscathed and with a better knowledge of computers. just keep a clear mind and if you can, remember what you were doing before your computer crashed. it also pays to always save your work. cheers!!!

• Philippines
4 Nov 09
thanks for the best response mate! don't worry. you'll eventually find a better way to get a hold of your emotions and if you ever go crazy again, you wouldn't take it out on your hapless computer. who doesn't get mad? everyone does at one time or another. it is just a matter of channeling your angry emotions into something more positive and productive. the next time you get angry because of a computer glitch, just walk away from your computer and take deep breaths until you calm down and actually get your bearings back so you can resume working. cheers!!!


• India
1 Nov 09
I am using my 6th keyboard and 4th ups. The used ones are still buried in my lawn. RIP. coming to the main topic... Let me put forward my computer configuration RAM: 256MB HDD: 40 GB. No new games work and those which work are already played ones. parents are not buying me a new computer and the I am not getting joining date from the company. Hence sitting on my chair an kicking the ups is the only job I have been left with. RAGE AGAINST MACHINES aka computer... Nice time pass..eh.