role model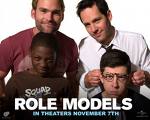 India
October 31, 2009 11:48pm CST
Do you have any person as your role model? I have one. That is my neibour. She, not only keeps her house very tidy, but also present herself very neat and always invites her guests with a soft voice and a smiling face. Besides looking after her entire household work all alone, she also looks after the needs of each and every one in her family besides her construction work also and busy in buying the materials for that and hurry to buy the necessary vegetable and groceries for her own family and though she is busy round the clock, she never shows any sign of tiredness or frustration in her face.
4 responses

• India
1 Nov 09
I have a Role model and that is none other than my elder sister vanaja. My mother expired when I was 16 years old. My other elder sister was married by then. Those days I never used to like any food item and was not eating properly. I was very weak and thin. She used to sit with me when I was eating, take rice and was putting it in my hand and sometimes in the mouth also and was saying good things, like a child I was eating. She was cooking my favourite items to make me eat. After my marriage, she only took care of my deliveries. Now-a-days, if we say we are coming to somebody's house, people will diplomatically avoid our coming. But my sister, even now, always says come and stay for some time. She even takes care of us so well. Always she will give us something or other, either clothes or gifts and never expects anything in return. Usually people think what to get from whom, but my beloved sister always thinks what she has to give me. She is my mother indeed. Her husband and children are also supportive. I wish her long life, peace, health and happiness always and want to convey this through Mylot.

• India
1 Nov 09
yes. Indeed she is a god gifted sister and finding such sisters in this birth is very rare. I think you are lucky to have a sister like she. Actually my second sister too is having similar qualities and I always think that she is next to my mom. What ever may be her personal problems, she don't hesitate to rush to my place in case of my ill health. Defenitely God will bless such people and their family with longer life.

• India
8 Nov 09
Thank you very much for the Best Response. I feel this credit goes to my sister Vanaja only as I have written her true nature. If this is Best, then the credit is to her character and nature. Thanks Vathsala30 once again.

• India
2 Nov 09
I dont have anybody as a role model. But i keep doing all good thing.

• India
2 Nov 09
That means you are the role model for some one else who wants to do all good things always.


• India
1 Nov 09
Generally the younger sibling will be petted a lot by the parents even though they grow older. Especially the male children will get extra attention from their mothers and the daughters from their fathers. You say that your bro is 40 yrs and no job. Is he still unmarried? why he did not take up any job?

• India
1 Nov 09
hi dear friend ya i have a role model and he is my father and what is ur exact name why because my mom's name is valsala thank you have a nice day

• India
1 Nov 09
My exact name and username are the same. Yes. My best friend's name is valsala only and all my malayali friends call me valsala and I don't mind being called in that name. I know malayalam and I can read it too. Your name and your dear mom's name sounds like you are malayali. nyaan payanjadu sariye?