The End of the World.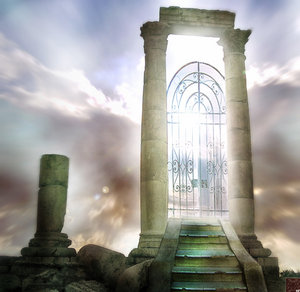 Philippines
November 1, 2009 7:23pm CST
Many forum sites have discussed this kind of topic, every now and then whenever this topic is started many opinions was asked and shared. Obviously this topic hits the unwelcomed issue of a man's destiny, that is DEATH. Many are afraid of "the end of the world", END OF THE WORLD, defined as mass destruction of everything, the second comming of Christ. Yes those are very true, that will really happen because it is written in the bible. As i was thinking of that issue, and reading from a forum's topic, i saw a friend's wall post, a heart bothering word's, words with heartache, with sorrow, then i asked her why do you say those words, feels like you're going to die, i asked straightforwardly basing on the words I have read. Then she told me that she is sick and in deed she will die SOON. "EVERYTHING COMES TO AN END" I recalled in my mind the last words i have read on her post. Wanting to give her comfort i told her, all of us will go there, all of us will die, we just don't know when, it's like the end of our own world. But ask God to give you grace and prolong your life He will listen. And i wanted to share to her that dying is not the end of life but the beginning, there's heaven it is given for those who acknowledge God and accepted JESUS as their Savior and chose GOD to be the master of their life here on earth. For those who accepted God to be their Holy Father. One christian died while he is sharing to those who are with him in the ICU. 3 days after his death one young people of his church went to this christian's brother, a pastor, and told that he saw a prophesy, in his dreams, that this christian went down here on earth with an angel of God and told the young people, i just went down to say heaven is real, its so beautiful and happy up there....then he disappeared. There I realized another definition of the END OF THE WORLD.END OF THE WORLD starts when we die but there will begin a new life. a LIFE WITH GOD a HOME in HEAVEN. I hope you enjoyed!God Bless Do you have your own definition of the END OF THE WORLD?
1 response

• Philippines
2 Nov 09
It is true that it is said in the Bible about the coming of Christ and it will be the end of days or generation. This will never surprise a true servant of God because he or she must have prepared himself/herself because whether Christ comes first or we die first, it is just the same, we will still meet our creator and stand before Him in judgment. But what is important is that we share to people that God is real and we need to repent of our sins and ask God to help us because without Him, it will be impossible for us to do anything because no man can be proclaimed righteous because all have sinned and fall short of the glory of God. But to those who seek God with their whole heart and obey His Word and does the Will of the Father will be save. Repentance is always followed by obedience. If we still keep on doing the same thing and does not have change, we better check the mirror (God's Word) and see if we truly are obeying God and if we really are His people. If a person is dying, you should have first asked the person if he or she does know Christ because He is the only hope for Salvation. Prolonging or asking for extension is God's decision, not yours to say to a person who does not have any relationship with Christ. A doctor will first administer an open vein that would kill a persons life rather than to heal a splinter. We are now living in the end days. And we as true followers of Christ must be firm and stand strong in the Word of God and be brave enough to tell to others about the true Gospel of Christ without sugar coating just to make others hear what they wanted to hear. I respect other peoples opinion here. This is not a topic for a debate or heated argument because of one's faith. I do hope they also respect mine. Happy Mylotting.

• Philippines
2 Nov 09
Thanks, i am about to ask her about her relationship with God after that short talk with her, i did wrote her a letter explaining to her about God and i hope we could have a face to face talk i know she's afraid, and have regrets for whatever she's going to leave here. yeah prolonging one's life is on God's decision and i pray before her time comes she will accept God as her Master and Jesus as her Saviour. again thanks and happy myloting too...