New Scroll Frame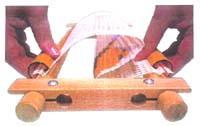 St. Catharines, Ontario
November 4, 2009 6:34pm CST
I ordered a new scroll frame from Sewandso.co.uk. It's the "Elbesee No sew Easy Clip Hand Rotating Frame". It uses plastic clips (much like some hair curlers) to secure the fabric to the rod. It sure was easy to set up, much easier than using tacks or sewing. We shall see how well it keeps the tension, though, as I only just started using it. I ordered the 12" sides so I have lots of stitching area available, maybe 10" compared to about 6" with the one I started my project on. I think I'm going to be very happy with it.
3 responses


• St. Catharines, Ontario
6 Nov 09
I've tried waste canvas but didn't like the result. I'd rather count threads -- takes longer but looks neater.

• Canada
5 Nov 09
good for you hon, I hope they make you very happy and your task much easier

• United States
5 Nov 09
Please let us know how you like it after you've used it a bit. I've been so busy with making cards and jewelry that I probably won't be able to do much cross-stitching or embroidery until after the first of the year. Thanks for letting us know about this new product. I'm interested even if I need another craft tool like I need a hole in the head! But if it makes embroidery easier, then surely it would be worth it.

• St. Catharines, Ontario
25 Nov 09
I like this scroll frame very much. It's keeping its tension.