homeless population raises

United States
November 4, 2009 8:26pm CST
The Homeless population is raising by leaps and bounds. I just read that 10% of homeless people are new and have never been homeless before, they are homeless due to what is happening with the economy. How is this hitting you personally? Do you care about the homeless, or just what is happening to you? What do you think would happen if we end up with thousands of homeless people while thousands of homes sit empty?
9 responses

• India
5 Nov 09
There is no problem on food and home for me now and it wont come on future also to my knowledge the government only has to do something to provide job for most of the ppl obama said this and that i don't know what he did about unemployment still many are job less which are leading to this of homeless...atleast they must take action before there is a stage of food less

• United States
6 Nov 09
I watched an Oprah show a couple of months ago. The entire show was about people who have become homeless due to the economy. I don't understand why the Government isn't doing more to keep these people off the streets. I know there are programs and special housing, but where I live they have years of waiting lists. I feel sad that people have lost everything. This never should have happened to them.

• United States
6 Nov 09
It makes you wonder if the government is not causing this on purpose to further their personal agendas. They would rather play solitaire, check their facebook, or the sports scores during congress sessions than do their job and serve the people. There is a picture of this, no joke.

• China
5 Nov 09
hi tambrerocks, i feel pity for those homeless people, luckily, it is not happened to me, i am ok with my work and my family. for those homeless people i think the goverment would take some actions to propect them, they need help in this world, and i think i would do whati can do to help them. but personal power is limited, we all should give them a hand.:)

• United States
26 Dec 09
the government isn't alway all that willing to help the homeless and, when they do, it's just a temporary fix. it's rather sad. we hear so much about the poverty in foreign countries, such as ethiopia, but, here in america, there are so many people who don't know where their next meal is going to come from or where they are gonna sleep on any given night. we have been blessed that we have someone to take us in, but we don't know for how long. many homeless people do not want pity. they just need a break and want to stop depending on others.

• United States
6 Nov 09
It sure is. In California, the homeless rate in Los Angeles and in San Diego has sky rocketed over the last year. I did a report on San Diego last year for a class and the homeless rate was above 10,000 people or more, and growing. No one can find jobs right now, and many people are being forced to live on the streets or in shelters. I know students who have just graduated college, who are finding it hard to get jobs and are being forced to live on the streets.

• Netherlands
5 Nov 09
Especially during this difficult economic time there are bound to be more homeless people now than ever. Especially in places where people are mostly effected by the economic crisis and who are dependant on other countries. There are also too many educated people which results in a saturation in the job market. This in turn leads to more unemployment and in turn more homeless people.

• China
5 Nov 09
The wenchun earthquake happened last Year,make a great disaster to our country.A geart many babys lost their parents,became homeless.our country do a lot to help them,anyone who want to adopt,must be a outstanding couple without children,so every homeless babys and young went on have a nice home.

• China
5 Nov 09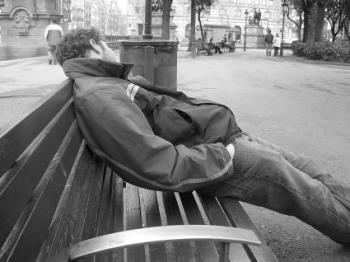 I read the news about homeless population raising too. In fact, it is very common that more and more people are becoming homless. It is really a serious situation to the government and society. As you have said above, 10% of homeless people are new and have never been homeless before, but now, for some reasons, they have to lose their own home. With the slump of the economics, more and more people become jobless and then they have to sell their houses in order to make some money to continue their poor life. I care about the homeless. However, it is not enough for I am so small. If we want to decrease the rate of homeless population, the government and people all society should actively take actions to help the homeless.

• India
5 Nov 09
Hello tambrerocks this is checkmail and often am worried about this issues of peoples in the country as well as world.Where will they get the homes for shelter, as shelter is must thing in the life of a human being.Many die to lack of proper shelter, even the standard of living is affected by it, and things worsens.Todays global recession is taking too much price from us, as there is less and less land left for civilisation of mankind, even the nature is being devasted in order to provide homes.Many are unemployed that the worst pro.

• Garden Grove, California
5 Nov 09
hi tambrerocks It happened to me 11 months ago, my son was laid off , and could not get a job, we ran out of money,got behind on our rent, and presto we were homeless. so my son knew it was not good for me, his mom, at 83 to try to sleep on park benchs so he with the aid of a social worker for adult protection services got me into this retirement center, Gold Crest , which is paid for with my social security and ssi checks,while he got put into gov.sponsored housing with three other men allof whom were out of wo rk, so they have a place to live while they hunt for jobs.it was scary, it was frightening at first to come here as I was used to being my own boss,doing my own cooking,cleaning etc. and now I am actually pampered as I get feed inthe dining room, my room is cleaned daily,my clothes are washed for me, but it still is not like being with my son in our own apartment.but I am safe here. I care desperately for the homeless as I saw a young mom with a two month old baby,no home,no work, and no husband sleeping in the same Salvation Army hOspitality house that we were in for a week. this is a sad,bad situation and needs to be helped. jobs first and foremost, then housing that they can afford, it can be done but enough people must want to help those who need it. Houses are standing empty and apartments are going empty as they charge more that most Californians can afford.