What's the relationship between truth and knowledge?

Philippines
November 5, 2009 11:04pm CST
Knowledge can only exists in the minds of men while truth can exists with out men. Or one must possess "knowledge" before you can discern the "truth". How about you, what you you think is the relationship between the truth and knowledge?
3 responses

• China
6 Nov 09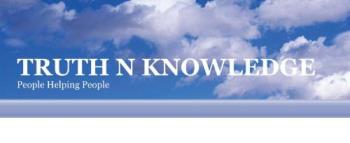 In a word, Knowledge has a limit while truth is endless. That is to say, knowledge may change or disappear someday, but the truth can exist forever. You see, usually, knowledge is created by us human beings while we try our best to discover the truth. Truth can exist with out people, but knowledge can only exist in the minds of men. Knowledge may be wrong but the truth is the basis of equality. There are no direct or obvious relationship between truth and knowledge. Compared with knowledge, I prefer truth for it is eternal.

• Delhi, India
6 Nov 09
Hi Full! I think knowledge is something that is acquired or gained and truth is a matter of face or statement. I do not see that both are directly related to each other because knowledge could be shared with anyone or everyone, however, truth (say your personal matters) cannot be shared with everyone.