india vs australia: do you think that india has no great finisher?


India
November 6, 2009 2:39am CST
Hi friends . In one day matches India makes a decent start and then carry on nicely and steadily.opening is very good and middle order is cool.But there is no great finisher who wins the match for india.who is the particular player who could be a great finisher according to you? what would u like to say in this regard?
3 responses

• India
6 Nov 09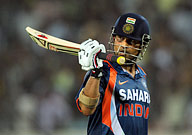 I guess this discussion topic is started after the 5th one day intenational match heald at Hyderabad. We have seen many of the Indian matches finishing well and our team do have good match finishers. It was a splendid effort by Sachin, truly a genious knock. But the way and at the time he got out was unfortunate. But still match could have been won if the tailenders did not play the fool game. According to me Sachin, Yuvraj, Shewag and Dhoni are the matchwinners in our team, but you cannot ingnore others as well. Cricket is after all a team game and I would like everybody perform to win rather than depending up on a single person. What is your opinion?

• India
6 Nov 09
I am agreed with you but many times India had not won the close games and definitely their is lack of good finisher who finishes the game in our favour.Sachin,Sehwag are devastating begineers and yuvraj,dhoni stays in middle.At the end finisher role is important according to me.Happy mylotting


• India
6 Nov 09
Well there are some good finisher but in yesterday's match they didn't perform well. Harbhajan Singh is quite a good batsman too but yesterday he can't score well. But i think there must be good all-rounder placed in the finishing order.

• India
6 Nov 09
Hi harpreet i am agreed with you that harbhajan is a good batsman but he was sent at wrong place yesterday.Also India requires one allrounder who is capable of finishing the game.Allrounders like Irfan and Yusuf should be into the squad.Zaheer Khan would also be a good option.