breakfast in bed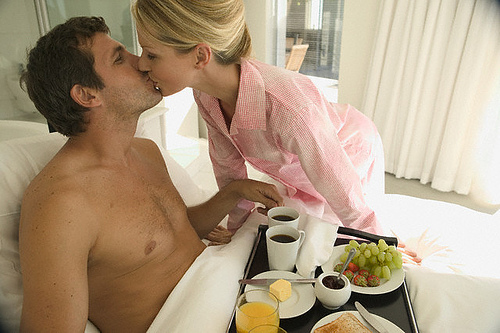 Canada
6 responses

• United States
18 Nov 09
lol well for the sake of the conversation.. even though i know it will never happen, I would choose my hubby if he just so happen to offer. i think that would be a huge turnon for me.

• India
7 Nov 09
Hi BART78. How are you...? What a nice topic... Such an entertainment every one should have in our life..What is life with always.. tension..tension..tension. Therefore I selected to comment this topic. It is Sunday..time..morning..When our wife asks openly that too in romantic voice...it is well known fact every one would prefer the wife only..ie our answer to our wife would be 'you'' only. Am I wrong. After a week long life with so much of tensions that day and that time are ideal for relaxation which would certainly facilitate celebration of Sunday.. After all why Sunday comes in every seven days ...only to have a detailed and peaceful enjoyment. Thanks a lot for an opportunity to share my views. WITH BEST WISHES. WISH ENJOY EVERY SUNDAY.

• Canada
7 Nov 09
i'm doing great and thank you for asking..yeah i love it when my wife serves me breakfast on bed, i really can't explain how happy and lucky i'm having a beautiful and loving life, ofcourse i choice her and after that we eat our breakfast and have a nice chat, plans for the day and week ahead..sunday for me is a day to relax after a week of poundering work..you too HAVE A GREAT WEEKEND!!





• China
7 Nov 09
Of course coffee first and then the partner.Because ,people will be tired for the whole night ,and in the morning ,a cup of coffee will make them wakeful and give them strength,but fist have tea will be not good for the health.The next is the partner ,the reson is if you have a cup of coffee,you must thank you for your partner ,so you can express thankness to him or her.

• United States
7 Nov 09
I would pick the coffee and ask him to put some Bailey's Irish cream in it while he was at it. After 16 years that spark just taint there anymore. I wonder if anyone could kick start this heart again.

•
7 Nov 09
Hate to say it but my choice would be tea my partner would have to wake me extra early to get there before our young children do and normally we both still want to sleep lol! As I tell him he might not get me for breakfast anymore but he can have me for dinner anytime he likes as long as its after 7pm!