seals in the city

November 8, 2009 10:06am CST
in a city i regularly visit you can often see grey seals bobbing about in the water from the bus or train on the way there and back. there is also a bridge that takes you over the water to a suburb and on the way over you can sometimes see them in the water more or less right in the centre of the city. so what surprising wildlife do you see in the city you live in (or one you visit)? if all you ever see are pigeons and squirrels what would you like to see?
9 responses

• United States
8 Nov 09
Well I used to live in the Pacific Northwest of the USA and have seen Bears, moose, elk , deer, weasels, beavers, Seals, whales, dolphin! And more I can't even remember!

Now I've moved to a large City in Mexico! All I see now is stray dogs, that look like they haven't eaten in a week!

tdemex

• United States
8 Nov 09
Rabbit, I cannot confirm the whale part, but I know there have been instances of bears and beavers in the city. If the summer isn't a good one for food, then they are attracted to the city for food. The city is quite near the mountains, though, so that is probably why.

• United States
8 Nov 09
Well ya I'm sure the city of Hailey Idaho, bears, elk, deer, beavers, in Seattle from the docks seals whales dolphin! Where you been living under a rock? You've not studied the Pacific Northwest of the USA? Those schools in England should thinl out of the fog! These are well know for exactly what you wonderful post is all about! I've been to Alaska also and seen some awesome animals there! But didn't want to blow you away to much all at once! Now in Mexico we have an occasional roadrunner! They are a real site to see!

I've traveled all my life and have been to the most awesome places the good ole' USA has to offer! We're still a fairly new country and not packed in like a bunch of sardines here! No offense! Just think what your life would be like if your ancestors got on the Mayflour and few hundred years ago!




• Greece
8 Nov 09
Perish the thought of the walrus ever actually getting in the water, we haven't heard the end of it since he fell in the other week. Seals have definitely been spotted by the fishermen who have lost a full nights catch, which isn't fun when they've spent outs preparing the lines.


• Singapore
9 Nov 09
That's very interesting, jb. For me, here in Singapore, we don't have any wild-life and if we want to see lions or tigers, we can only see it in the zoo. I would like to see dolphins in action; like real dolphins in sea-waters here. I think there might be occasional crocodiles looming in swamps and stuff like that, but mostly, no one ventures beyond that. Scary, I'd say. I've never seen real-life grey seals. That would be so awesome..


• United States
8 Nov 09
I live in a part of the United States that officially does not have wolves. However, anybody that lives here knows that we really do have them, because they have seen them at least a few times. I live in the country, so they are a fairly common sight. I have occasionally seen them on the outskirts of the city, though. There is a main highway that goes right through the city, and once in a while you will see the poor wolves lying by the side of the road, victims of the urban sprawl. These bodies are removed very quickly, however, because we can't have evidence lying around that goes against the official stance that the state is taking. Skunks, on the other hand, can lay around rotting for days before the city will remove them.


• United States
8 Nov 09
I am not sure, but I think wolves were basically hunted out of existence in this area, because they will attack livestock. Therefore, they were classified as endangered and eventually they were thought to be non-existent in this area. Now, the state is not recognizing that they are back. They probably never left entirely but retreated into the mountains and out of harms way. I am not sure why they are not being acknowledged as being back, but perhaps it is to protect them from being hunted again. On the other hand, politicians rarely do anything out of the loving kindness of their hearts, so it is probably some political motivation.


• Australia
8 Nov 09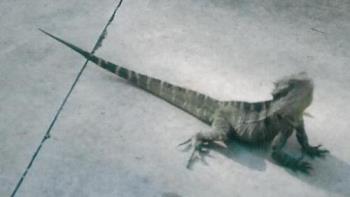 Here in Bundaberg we have one of the largest turtle nesting beaches. Every year, turtles come up the beach to lay their eggs and later the nestlings make their way back to the ocean. It is a regulated tourist attraction. While it doesn't happen every day (thankfully) we sometimes have snakes invade our city area. A couple of weeks ago an Eastern Brown (one of the deadliest in the world) was caught in the main shopping area. During the drought season many home owners come across snakes in their gardens and around the houses. Other reptiles - monitors, bearded dragons, goannas etc often appear near bush areas, in gardens, and sometimes in town areas Kookaburras laugh at me every morning and one sits on my clothes hoist nearly every morning. I have reason to believe it has young in one of our trees.

• Australia
8 Nov 09
I loved the highland cattle when I was in Scotland, but I don't think they were ever in the towns.

• Boise, Idaho
8 Nov 09
We have racoons in our city. Right down in the midst of a capitol city with a large population in the six digits. We have deer come down from the hills as well. I can't really think of anything else or any place I have been recently that has any other type animals. The racoons fight with our cats and cause havock but such is the life of a cat.

• Boise, Idaho
9 Nov 09
Yes, they are cute but do alot of damage and I think they were the ones that killed a couple of our cats.

• Garden Grove, California
8 Nov 09
hi jb blue bunny I am hoping that I am not writing this in vain, mylot is having loading problems so not everything goes through. anyway what I saw that surprised me and also made me feel so sad was deer running down the center on Newport blouvard crazed with fear, their hides steaming and soot streaked with the air around them filled with smoke and particles of ash everywhere. they were singed but alive, and trying to get away from a wildfire set by an idiot arsonist. the whole hillside was on fire, the smoke so thick we had to stay inside and put on our air conditioners. the wildlife people had to load them on trucks and try to find a southern california forest that was not on fire,and take them there. I will never forget the looks in their eyes,fear and shock.




• United States
10 Nov 09

Hm, didn't they make a movie about this? Or was that with penguins? I was pleasantly surprised when I moved from the country into the city to find that even here, deer, rabbits, and the occasional skunk frequent the front yard. Oh, and a couple of raccoons. Didn't care for the skunk who stunk, though. Karen

• United States
10 Nov 09

I need to wear my glasses when I'm viewing movies lol. The raccoons are very much the pests!! But they smell far better than the skunk


• Shingle Springs, California
10 Nov 09
We aren't quite in the city, we're just outside of Sacramento on the way to Lake Tahoe. We see deer and raccoons and skunks (or we smell them lol) and wild turkeys. Those are the most common. We also see a lot of ducks and canadian geese and other birds. Once in a long, long while we see a coyote or a bobcat. There are cougars and bears, but we haven't seen any. We've seen evidence of beavers but not the beavers themselves. Other than that, mice, owls, hawks, snakes, lizards, rabbits, cormorants, seagulls... And that's about all I can think of right this second.

• Shingle Springs, California
10 Nov 09
We didn't see the bobcat for long, that's for sure. It was near sunset and it was being very stealthy!