The beauty of rainbow, can you explain it to a blind person?

Philippines
November 9, 2009 4:52pm CST
One of my kids have a friend who is blind since birth. He was ask by his blind friend to explain to him the beauty of the rainbow. In my kids young mind, he told his blind friend that the rainbow is the most beautiful thing you could see in the sky after a hard rain. His friend never ask a question about it again. But after he told this to me, I would want to tell my kid to tell his blind friend the beautiful colors of the rainbow. I will relate each color to the emotions and feelings even the blind person could fell. Red - when relating red to feelings and emotions, I would say its like when you are furious or in love. When you relate red in a positive way, it can be "love", while in negative it could mean "anger". I have just made the first one, could you add the other colors?
11 responses

• United States
10 Nov 09
Maybe... for blue you could tell them sorrow; green is the scent of nature and the world; pink is the essence of flowers; purple is the rusty taste of blood (but not blood itself); and orange is tangy, very optimistic. Oh yes and I forgot yellow... maybe feeling the sun's rays on your skin, a light yet burning feeling.

• United States
10 Nov 09
...Hi Fulltank, This is an interesting topic, also kind of difficult. I say that because I am an artist, I dabble in colors at times. If you are going to describe a color to a person, you have to have a point of reference, an unsighted person sees darkness, if I am correct. So to say to him or her that blue is cool, red is like rage, he or she must have a focal point as to what hue you assign to hope or cool or rage, again you need a point of reference for your assignment of a shade to the name of a color. I would describe the rainbow in a different way I would describe what the shape would be which is not hard, if you tell the person who cannot see, that if you take a circle which is round and slice it in two, one side is like the shape of a rainbow, with multiple colors from one end to the other. Ask him what he thinks blue would look like if he could see it, and go from there, to give him some reference to develop his own colors in his mind instead of tying emotions to them, which in essence we are going backwards to get to the colors, because we feel that red would be the color of rage, etc. If I am explaining clearly what I am talking about.

Enjoyed reading all the descriptions. Take care.

• United States
10 Nov 09
Red - Love or fiery passion Orange - Spunky, childish, and tangy Yellow - Bright, happy, cheerful Green - Innocence, fresh, new Blue - Brilliance, calm, peaceful Purple - Royal, majestic, deep I personally think this was a great discussion topic. Now I really want to talk to your son's friend about the colors of a rainbow=). To me, rainbows are a rare treat, as I haven't seen too many, but when I do, I never forget. I hope you have a great day!

• Malaysia
10 Nov 09
Orange- when relating orange to feelings and emotions, i would say its like you you are happy, joyful and excited. This is when you see it from the art's view. In art, orange is part of the "hot colour" with expresses the feeling of joy, happy, excitement etc. Orange colour, can be a different meaning in theater. orange colour represent the time setting in theater which is the time between late evening to dawn. This is because they couldn't turn off all the light during the performance of the theater or the audiences will see nothing. So i suggesting if you can also explain to him that the orange colour is just like the feeling he feels during late evening. It feels like everything that happenned in a day is about to end. The happy moment playing with friends is about to end when your friends are going back. However, the new day is about to start.

• China
10 Nov 09
Orage, like the color of a orange. It represents the joy and excitement. Yellow,which is very similar to orange but a litter darker than orange. Green, it represents the energy of all lives.Most of the plants are in green. Blue can be seen like the ocean. It calms down the excitement. Purple is a elegant color.

• China
9 Nov 09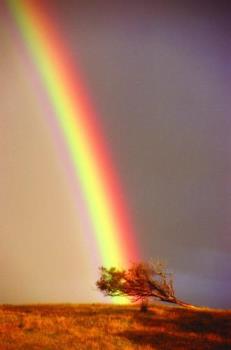 I have to say that you are doing so well.

If I have some chances to describe the rainbow to a blind person, this is my answer: A rainbow is a variously colored bow-shaped optical illusion that might appear up in the sky on a rainy day. Orange is the heat of an oven. Yellow is warm enough you can feel it if you turn toward it. Green is damp and neither cool nor hot, and it smells alive. Blue is the coolness of a glass of cold water, just like a cook breeze, which represents the hope. Indigo is the coldness of icy cold ice block. Violet means mysterious.

• Garden Grove, California
9 Nov 09
hi fulltank this is really beautiful let see. green would be a color of peace and tranquility , and nature, a color of life, blue is the sky and the color of love and gentleness, violet is the color of nobility and charm and prettiness yellow is the color and warmth of the sun on your skin, and warms your heart too. I don't know if these help or not but it is what I could come up with at first 'thought.

• Philippines
9 Nov 09
That's great,...this is really interesting...giving a blind person some views on how does a rainbow looks like. It would be very difficult,but i agree that it can be pictured to a blind person thru describing in some ways. Like saying that rainbow is a sky bridge,that the BLUE- color signifies HOPE,like sky color that...give us the HOPE of eternity in heavens. Well,let the others give the other colors it's meaning too


• Chile
10 Nov 09
Yes, you can explain the blind guy and he can imagine the rainbow...or something even better, because he creates a rainbow that he likes and has the caracteristics that you tell him. Imagination can make really better things than reality.

• China
10 Nov 09
It is a difficult job to do for me. I only can tell you there six colors in it. Those are:Red Orange Yellow green indigo violet I am sorry, can't help you!

• Malaysia
10 Nov 09
Orange- when relating to feelings and emotions, I would say its like when you are happy and filling with joy. In art, orange colour is part of the "hot colour". "Hot colour" is always refered to the expression of the feeling of joy, happy, excitement etc. Orange colour in theatre have another meaning. It represent the time setting like late evening or night. This is because they couldn't turn out all the light or the audience will see nothing. So, I suggesting if you can explain to him that the orange colour is just like the feeling he feels during late evening. It feels like the end of a day is approaching.