My brother wants a good lover whom he can marry?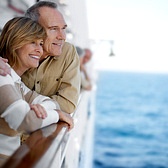 India
November 12, 2009 12:22am CST
This is a request actually I have a brother not own knowing person because of his family problems as his dad was not there he took the complete responsibility of the studies of his sisters and brothers and made them well settled in there lives. He didn't get married all these days thinking that the one who he marries doesn't care for his family where should they go....and he was living with his mother. Recently even his mother passed away. He is feeling quite lonely. We want him to get settled by marrying. He is 55 year old. Just a partner who can understand him and share his feelings, live with him...that's what wanted..nothing else. He recently gave volunteer retirement. Even then again he is working in some company. He is has a very long list of degrees...AS through out his life he went on studying...He has very good english...well versed...in all things...He is soft hearted. He can take care of all things very well as he has seen all the situations in his life.... We want an Indian girl caste no bar..He is basically a hindu....who are interested please respond to this discussion...so that we can proceed further...photos...etc.....I will be thankful to you....
No responses