But let's not jump to conclusions.....

United States
November 12, 2009 12:04pm CST
What does the Beltway shooter and the Ft. Hood shooter have in common. You draw your own conclusions. Malvo (the young teen who traveled with Muhammad) testified that Muhammad, driven by hatred of America because of its "slavery, hypocrisy and foreign policy" and his belief that "the white man is the devil", planned to kill six whites a day for 30 days. Malvo alleged that Muhammad had said: "We are going to go to the Washington DC area and we are going to terrorise these people." They then intended to move to Baltimore for stage two of their campaign, to shoot a policeman and then blow up explosives at his funeral. More explosives would target the ambulances that would then rush to the funeral. Another plan to kill three busloads of schoolchildren was thwarted because the pair were arrested when Malvo fell asleep while keeping watch at a Maryland petrol station. Muhammad's ultimate plan, Malvo testified, was to indoctrinate 140 young homeless men at a Canada compound who would "shut things down" in cities across America, unless they received £5 million. Furthermore: One of the jailhouse scribblings of Malvo...says; Islam the only true guidance, the way of peace, do not take our kindness for weakness. Go here to see more proof that John Mohammed was a terrorist: http://michellemalkin.com/2009/11/09/the-beltway-snipers-and-the-fort-hood-killer-peas-in-a-jihad-inspired-pod/ And here's something interesting on the Ft. Hood Massacre. But of course we should not jump to conclusions according to our leader, should we? The NEFA Foundation has obtained a statement issued by Anwar al Awlaki, an Al-Qaida-linked U.S. citizen, titled "Nidal Hassan Did the Right Thing" in which al Awlaki profusely praised the Fort Hood shooter: "Nidal Hassan is a hero. He is a man of conscience who could not bear living the contradiction of being a Muslim and serving in an army that is fighting against his own people…The US is leading the war against terrorism which in reality is a war against Islam. Its army is directly invading two Muslim countries and indirectly occupying the rest through its stooges." Al Awlaki continued, "Nidal opened fire on soldiers who were on their way to be deployed to Iraq and Afghanistan. How can there be any dispute about the virtue of what he has done? In fact the only way a Muslim could Islamically justify serving as a soldier in the US army is if his intention is to follow the footsteps of men like Nidal." Further, "The heroic act of brother Nidal also shows the dilemma of the Muslim American community. Increasingly they are being cornered into taking stances that would either make them betray Islam or betray their nation. Many amongst them are choosing the former. The Muslim organizations in America came out in a pitiful chorus condemning Nidal's operation." Seems we've been kept in the dark about both acts of terrorism? What do you think?
6 responses

• United States
13 Nov 09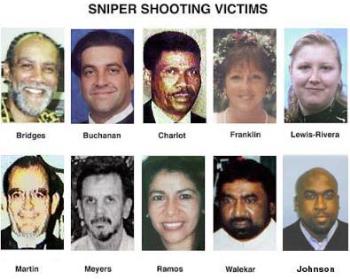 Debra, don't confuse the defense strategy used by Malvo's attorneys with the facts. As you can see, the victims were not all white...there were no grand plans ala Charles Manson. Also, they were not captured when Malvo fell asleep while keeping watch at a gas station. They were at a truck stop, away from the Metro area but nowhere near Baltimore. Keep in mind that Malvo was trying to avoid the same fate that awaited John Muhammad and he also told investigators that the ultimate target was Muhammad's exwife so that he could have full custody and control of his children.

• United States
13 Nov 09
By the way, Deb. Aside from the fact that some of Muhammad's victims were black, six per day for the period of time that he and Malvo were on their killing spree would have brought the total number of shootings close to 200. They never came close to that so what do you think kept them from reaching that number if that was their primary goal? The cops were tripping over themselves looking for white vans while they were in a specially equipped car where they could shoot from the back without opening the trunk. Malvo's claims were total bs because he had been charged as an adult (he was 17).

• United States
13 Nov 09
Another good link: http://www.biography-center.com/biographies/19100-Muhammad_John_Allen.html

• United States
13 Nov 09
John Allen Muhammed converted to Islam, admired the 9/ll hijackers, taught young stowaway & illegal immigrant to praise jihad....and you still think he wasn't motivated by radical Muslims? Ok...whatever. I think you just like to argue and be right all the time....



• United States
12 Nov 09
I agree. Anyone who cannot see the all too obvious link between these instances and Radical Islam is delusional... and we are all paying the price for this as these terrorist acts continue.

• United States
13 Nov 09
What connection have you seen between John Muhammad or Lee Malvo and any radical Islamic group? There isn't one as far as I know but please enlighten me if I'm wrong.

• United States
13 Nov 09
You'll have to read and see for yourself: http://michellemalkin.com/2009/11/09/the-beltway-snipers-and-the-fort-hood-killer-peas-in-a-jihad-inspired-pod/

• United States
13 Nov 09
I did read it Deb before I responded because I know that Malkin was up there, too, so I was interested in what she had. Her blog didn't mention any group John Muhammad had been associated with...only Malvo's claims and some writings that he had done.


• United States
13 Nov 09
First, the Michelle Malkin link wouldn't work for me, which is kind of par for the course here lately. Anyway, what are we not supposed to jump to conclusions about? Of course both the D.C. snipers and Nidal are/were terrorists as was Timothy McVeigh. I'm not sure if Nidal meets the "legal" definition but as far as I'm concerned he should. The fact that his superiors and other doctors in the Army were aware of his beliefs for over a year and did nothing is the most disturbing part of this whole thing. None of those people had to die! Unfortunately, hindsight is always 20/20. I'm not sure what you're saying we've been kept "in the dark" about. We all know there are Islamic extremists such as those in al Qaeda. I think we also know there are those who are just plain nuts, to put it bluntly and simply, and use their religion, whether they were born to it or had converted later in life, as an excuse for some sick and perverted reason. Notice these types don't usually kill themselves! Annie

• United States
13 Nov 09
This also makes me think that Obama is have a problem sending more troop to Afghanistan because of his Islamic beliefs. Is he now going to prove he meant what he wrote in his book: From Audacity of hope: I will stand with the Muslims should the winds shift in an ugly direction. Will it be hidden behind his concern to losing more American lives or sending more troops so that more Americans die. I think Ibn Barack Hussein Obama is stuck between a rock and a hard place!

• United States
13 Nov 09
I think he's put us between a rock and a hard place! I read he is due to make an announcement on troops to Afganistan soon. Those poor men and women who are already there. We need to pray very diligently for them.

• United States
13 Nov 09
0bama just rejected all 4 Afghanistan Strategies and told them to think of another plan. Meanwhile, our troops remain in harm's way while the Deceiver in Chief struggles to make a decision... 3 months and counting.

• United States
14 Nov 09
Ethically...his refusal to do nothing amounts to murder.


• United States
13 Nov 09
I think we should quit walking on eggshells and start calling things what they are. Hasan, that dirtbag, is a terrorist and so was Malvo. They aren't freedom fighters any more than I am "calorically challenged" or a "seasoned citizen"--I'm old and fat. They are terrorists. They should be treated as enemy combatants and if the POTUS doesn't agree he should be impeached for violating his oath to protect the Constitution and the country.

• United States
13 Nov 09
LOL...seasoned citizen sounds like something from a fast food joint!

I don't know about the enemy combatant thing...I think Hasan should be executed.


• United States
13 Nov 09
Just more examples of the loving-kindness as expressed from the religion of 'peace'. Whats actually worse is the political correctness that helped get us into this situation in the first place. Identifying your enemy is a primary rule in war. (Yes, folks we are still at war. No, it wasnt for oil. They attacked us, remember?) Yet the demoncrats wont allow us be proactive against those who would kill us (and THEM). To them it makes more sense to strip search little old white ladies at an airport and never question anyone with a towel on their head and quoting the koran. Wouldnt want to upset a muslum ya know! Debra, far far more than these 2 instances involve muslims.

• United States
13 Nov 09
I am beginning to see that. Remember the shooting murder of the recruiter outside the recruiting office around the same time Dr. Tiller was murdered? And our president's complacency in all this is very frightening. Especially after watching his speech on 'we are a Muslim nation'. I am not trying to stir up hatred. Last night I emailed a friend who is Muslim in Egypt. She is a kind and dear woman. She too is worried about the state of our country. They view us as a buffer between them and Iran. The whole world is watching to see what our leader will do, I fear it is going to be a disappointment.