Who is your idol in life?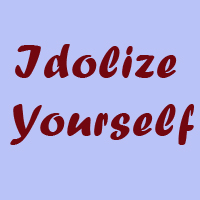 India
6 responses

• India
24 Nov 09
Hmm....My idol is my mom, since birth I have noticed she has somthing speciality which can't be expressed in words but apart from that she is extremely good mom. She always take care of me, give me advice and do whatever I need from her. She is very kind hearted and helps all the people who seeks for help from her. I always want to be like her but I know it is not easy to achieve that. I will try to be her shadow but will always respect for her achievements.

• India
13 Nov 09
Hi Sagnik... Yes, i do idolize one...its my Aunt (my dads big sister)...she has done a lot to my dads family....she sacrificied her marriage life, she works outside the country......and she takes care after the hole family....

• Indonesia
13 Nov 09
My Idol in my life is my prophet Mohammed Saw.As a moslem,I admirer and believe that he was the choise of god for being a model.He was kind person,honest enterpreneur,loyal and care to other.He was gently.Although I have no seen him yet,I believe my faith.


• United States
13 Nov 09
Hmm...that's a good question. I'm not really sure who I idolize. I think I'd have to go with my high school choir teacher. He was a really great guy. He worked hard, he pushed us to be the best and he treated us the way we should be treated. He taught us individuality and art and taught me not to be afraid to stand up and sing out.

• United States
13 Nov 09
my idol would be martin luther king jr and ghandi they really are an insperation to me because of their non violent protest and stuff