Rushed to your job without proper or no Breakfast!!! how often?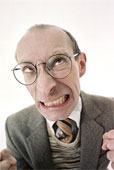 India
November 22, 2009 11:46pm CST
Though I take time to do things very slowly,bit of a lazy type of person,want to soak my self with the particular job or thing that I do,generally get up late in the morning if allowed I would like to take another few hours in the bed and like that and so on....... suddenly at the middle of the week I feel the pinch due to the loads of job to be done which has to be finished as the customer are to be made satisfied with the job otherwise its not worth it and secondly the customer that i have may loose interest with me and easily get turned off... what happens then??? who is to be blamed who is the ultimate looser.... nobody but its me and only me.... while in-between all this I often does not take my breakfast or skip the breakfast and do the cycling bit faster to reach the place of work.... and the days goes by the whole day becomes very unplanned and haphazard at the end very annoyed by myself and irritating one. Conclusion 1.Missing the vital breakfast. 2.The life becomes miserable.
3 responses

• Philippines
23 Nov 09
I always eat breakfast before going to the office except for days when I had to wake up early dawn because I had to get to another place which is still part of work. My former jobs were all in the city and just walking distance from home so I have no excuse not to eat breakfast. But when I had to go to another place, the bus usually stops at anothr terminal with a canteen so every passenger can have breakfast. But I don't leave my home without coffee and some bread or biscuit in the wee hours of the morning. And when I don't have breakfast on time, my head will surely ache.

• India
24 Nov 09
I am sure that you must be aware of the fact that if one regularly skips his or her breakfast are sure enough to face a daunting task and difficulty with his or her life that is to come,breakfast is to be a proper heavy and balanced one as the whole day it provides us the energy to carry on otherwise with just coffee/tea and few biscuit won't suffice your body demand and i am sure you must be in the habit of taking few snacks at your workplace before taking your lunch.......!!!Hence as a mater of fact we all have to correct our eating habit as soon as possible for the sake of our self's as well as for the family members those who are depended upon us,I hope for the best and request you to rectify your time schedule and have your full stomach breakfast and enjoy the life with your family. Thanks for your comments and I would like to know what snacks suffice your breakfast up to the lunch hour.???


• India
24 Nov 09
We are in a bad habit of not taking the breakfast at proper time,skipping the breakfast will lead to a fatigue and a long time unrepairable misery to ourselves.Hence we have to work our schedule afresh,though it seems somewhat childish to carry the food to the workplace but still a good habit when compared to the long time benefit.So carry on and have a good life both mentally and physically.

• United States
23 Nov 09
LOL. I missed breakfast almost every day for probably 20 years or more. Sometimes I would be at work at 7 am and not eat anything until 6 pm. But now I am retired and can eat regular meals, sort of. It was not just the time it took, but that I was too stressed at work to be able to do my job on a full stomach.

• India
24 Nov 09
First of all I salute all of you b'coz of the fact that you have at least at the finishing stage or have fully retired from work schedule and have successfully came to the end of the work life with the daily routine of moving to the office or work place in a hurried or with a loads of work etc. I am amazed to know that you have done it with out the breakfast almost 20 years.....I still can't believe it dear drannhh!!! You have done a unjust to your self by not taking the breakfast at time......but now its time to relish your life enjoy the retired life with your loved ones of your family and friends. thanks for your response.