Any tips on how to make a child eats well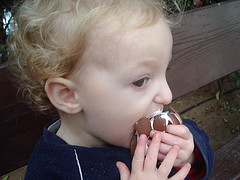 Philippines
November 23, 2009 1:04pm CST
I am really having a hard time, trying to make my child eat properly. He eats so long... it will took him hours before he finished his meal. He doesn't like to drink his milk also... I am really having a hard making him eat. I am giving him vitamins with appetite booster but still no changes... Can you share me any tips on how to improve my child's eating habit... I would greatly appreciate it. Thanks!!!
4 responses

• Philippines
24 Nov 09
Hey lovelyn! My baby of almost two always eats fast. Well, she doesn't before i told her that if she can't finish her food in time, she will be left at home because we are going somewhere. lol!

Hopefully, this can help you with your baby!


• Philippines
24 Nov 09

I did that already. He is just crying and saying "mommy no please..." Then he will act as if he is really trying to eat fast, but no improvement at all...


• Philippines
24 Nov 09
Owhh, that makes us sad when they used to do that! I suggest you leave your son on what he is doing now. At least he has vitamins that helps him. My lil brother used to be like this before. He eats a little and is very very slow too. But when he grows old, he changed. Lets just hope, your son will too


• Philippines
24 Nov 09
yah right... Maybe there is really a stage like this. He was fast in eating before when he was just starting like 1 to 2 years old. I have no problem with him before... just this few months... he started to go slow in eating.


• Nigeria
24 Nov 09
Hello, the tip am about to tell you will only work if you have more than one child, if you have more that one child just make sure you put there food in the same place and all of them eat at the same time, when the one that does not eat fast see the way the rest are eating surely he will copy them. As a result of that, the speed will increase.

• Philippines
24 Nov 09
Thanks victory12! I hope it is that easy... we always eat together but he is always left behind... My full attention is on him but seems like he is always slow in eating...


• Nigeria
24 Nov 09
Ok, if that system does not work you need to take him to hospital for medical test.

• Philippines
25 Nov 09
Hello victory! He is improving... I gave him a special milk like an appetite booster... and it is effective... He eats faster than before and he is also asking for food now...


Before it is always me who asks and received the word "no" answer always...


• Pasig, Philippines
1 Apr 12
kids love to play even when its time to eat they still wanted to play...try to create a game where they have to finish eating with one another with a price of a glass of milk or a chocolate drink im sure they will finish their food in no time...i know this because it works for my kids...


• Philippines
2 Oct 11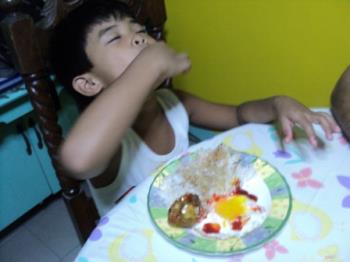 First, don't allow your child to eat in between meals. Don't allow him to munch lots of candies, chocolates and other junks for that will make him feel filled all the time. Also he should have a daily intake of vitamins that will increase his appetite. Also encourage him to eat meal by describing to him what are the benefits of those food.