ok. what are they up to?

November 24, 2009 9:47am CST
orcas aka killer whales regularly drag their groups of friends along to vast social gatherings. now there is no obvious reason for this - they are not breeding, there are not accidently meeting where there is a seal surplus - they are clearly plotting something. so what do you think they are doing - organising revenge on humanity? talking about the meaning of life? exchanging very dull fish anecdotes? what? and here's a link: http://news.bbc.co.uk/earth/hi/earth_news/newsid_8188000/8188071.stm
9 responses

• Greece
24 Nov 09
Clearly plotting which smaller group they can boss around and send to overthrow fishing boats and their catches. They could actually just be doing it for a laugh you know as there is nothing whales like more than a bit of gossip and the thought of all those seals they can send in to knock against innocent fishermens boats and compare notes about which fisherman got tipped into the sea must raise a huge chuckle amongst them. And of course whales are too big themselves to do it without being noticed.


• Australia
25 Nov 09
I haven't the faintest idea what they're doing, but for some odd reason this reminded me of one of my favourite jokes. A young male whale met a young female whale, and they fell in lust, as you do, and starting tracking around the ocean together exchanging life stories, as you do, and generally settling in to something long-term and meaningful. Then one day they spied a ship on the horizon, and after a few seconds of intense scrutiny, the young male whale went completely spare, thrashing around and singing completely out of tune and sounding deep and long. When he finally settled down she asked him WTF? He explained that he had recognised the ship as the very same whaler that had got his mum and dad and all his siblings, not long before he met his true love. She was outraged and totally sympathetic to his anger. After a few minutes of mutual outrage, he came up with an idea for revenge. "We'll swim up close, dive deep, then both come up together under the ship, blow all our air out of our blowholes, and flip it over. The we can eat all the sailors as they struggle in the water." She looked at him askance, and then replied, "I have no objection helping you with the bl*w job, but I'm damned if I'll swallow the seamen." Lash


• Romania
25 Nov 09
It is only on a second thought that I connected your response to the puss from my avatar picture. At first, I thought you followed some of my older discussions and interests (which I find unconceivable for anyone mentally sane - a stalker, by any other name would be as cheesy - I had a Scottish friend once that found me irresistible) and discovered I am a geologist. You may wonder what's geology got to do with the kittens... If you visit this page of Uncyclopedia, and check out what happened during the Petroleozoic, you will see that the kittens are at the base of what's fueling most of our world... Do read the entire scale of time, I think you won't regret that. http://uncyclopedia.wikia.com/wiki/Geologic_time_scale

•
25 Nov 09
hey - uncyclopedia is brilliant.

way better than that feeble wiki one. will have a look at this particular page shortly. now i haven't stalked you as yet but i am intrigued, btw it would make stalking for me much easier if you tell me which discussions you are referring to



• Singapore
25 Nov 09
Like Thea said, perhaps a whale gossip is in existent, lol. I think that's quite cute, really. But it will be quite some time before they plot against humans. I think they are discussing how to minimize the pollution around them. They sure need fresh, clean water..



• Boise, Idaho
26 Nov 09
Oh, I think that is silly. Whales are social and I think they go in schools. I would not for one moment think that they are plotting anything. And for a animal they could be talking about the meaning of life or exchanging anecdotes. You just never know. I read a sci-fi book one time about a wizard getting hoards of animals together as an army against man kind gone wrong.

• Boise, Idaho
28 Nov 09
Yes, they seem to be very social as I have witnessed at the ocean and in documentaries about them.

• Australia
28 Nov 09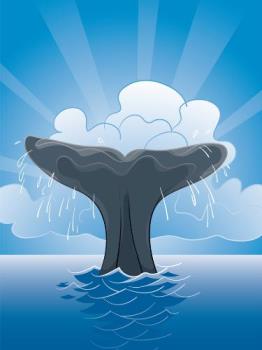 I by-passed this discussion because I haven't a clue why orcas gather. But . . . if you were talking about humpback whales I could answer your question. It is quite clear that humpbacks gather to discuss the best place for a fun park - and they always come up with the same answer: Hervey Bay, Queensland, Australia (about a one hour drive from here) Every year, the humpbacks gather at Hervey Bay to thrill and captivate hundreds of tourists. They have so much fun frolicking in the waves, high diving and slapping the water and teaching their young to do the same. They respond to applause and put on a bigger show. They thoroughly enjoy themselves as they give pleasure to humans. In case anyone wonders: the industry is highly controlled, with many safeguards for the whales. Only registered boats are allowed in the area and there are distance regulations and other controls.

•
28 Nov 09
i've seen humpbacks off ecuador and they are really dramatic (and show offs), it's interesting that the ones in hervey bay seem to react to applause, the ones i saw appeared to be mainly showing off to each other although i am sure they were aware of the various boats and their inhabitants in the area.

• Garden Grove, California
24 Nov 09
jb hi well now maybe they are going to Japan to get those meanies who gang up on helpless dolphins just to eat the poor things, but am not sure as maybe whales like dolphin meat too, nah dolphins are too sweet even the meanest orca surely would not bug or bother the sweet kindly dolphins. then on the other hand being a social' gathering the gal orcas are all there to talk about the 'mean dastardly things all the male orcas have done or the gals think they have done to

them. sort of gal gossips and guy gossip among the orca whales. yes I bet that is'what they are up to indeed.



•
24 Nov 09
you might be onto something. then again they are intelligent but being intelligent doesn't necessary mean they won't be exchanging pointless stories about how mr orca doesn't take care of his fins properly or how pointy and handsome that new arrival over there is looking etc.

• Shingle Springs, California
1 Dec 09
Inventing a new word? Orcanization?

• United States
27 Nov 09
I have not heard about these get togethers but the Orcas are a very smart and social animal (they may be smarter than humans, we just cannot test how smart they are). Most pods (or family groups) will eat certain food as opposed to eat everything that swims in the oceans. Some specialize in salmon, others specialize in penguins whereas others go after other whales. These get togethers may be of a couple of different things, one is family reunions, (after all humans have reunions) Orcas do not mate with their own relatives but rather go out of their pod to have mates. Another thing may be that they are letting their kin know of what they have been doing and maybe how to get another kind of food.

•
27 Nov 09
hi oscar - yes the different foods they eat require different skills and some (especially whales) require a great deal of organisation so it makes sense for a pod to specialise, so could be skill sharing involved here. these get togethers aren't for immediate breeding purposes but they might be related in that relationships are established for the future. there's probably a range of social reasons for them, but i prefer to think they are plotting