Targetted friend requests, with motives.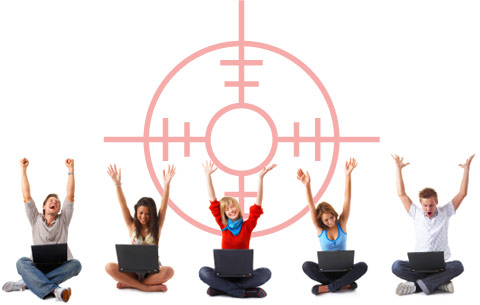 Canada
November 26, 2009 11:40pm CST
Twice today I received friend requests. Not thinking about anything, I accepted it. A few minutes afterwards I got messages from these new friends of mine. Messages with links and instructions on how to sign up on the sites they're working on. Then I realized that I was just being recruited. What's your opinion on this? It would have been ok if we shared a few discussions or interactions first before I was asked to join. Then I could have learned a few thing about these new friends. That they're not scammers or anything. What dya think? Is this an accepted strategy?
9 responses

• United States
27 Nov 09
Yes it is. I am so glad that you started this discussion. I will definitely be more aware. I would have done the same thing you did the trusting soul that I am. UGH! Gets me in trouble everytime. And that is not an invitation for all you scammers out there!!!


• United Kingdom
27 Nov 09
Hi there bounce This happens quite often here I am very careful who I accept, I had 2 as well today and they only had 5 points so that already is suspicious to me anyway when they request but have never been to any of your Discussions so I denied them Just delete them again this will happen here a lot


• United Kingdom
29 Nov 09
Hi Bounce it is not so much the Points it is when you look at their Profiles and notice that they are to busy getting Friends and not responding to Discussions that is what is the Give away you can then see that all they are doing is collect Friends so that they can spam them

• United States
27 Nov 09
This reminds me of a couple of days ago where I came across a person's profile and their slogan said "I message about links so if you don't want them, don't add me". I think if more people would do that atleast we'd be forwarned, and possibly have a good referral, though the site being a scam or not is a different story. No I don't think it's right to just spam us.

• United States
29 Nov 09
Yes, I know I don't always check profiles. I haven't really came up with a good schedule for my money making online ventures. Going to have to think of one soon when availability for using the computer will be limited by an offline job.

• United Arab Emirates
27 Nov 09
Of course, I would expect that when someone (from the internet or any social networks) sends you a friend request, it's either they would promote their websites, their products or services, or sending a referral program. I would not expect any kind of real 'friendship' from these people. But, if I find their messages helpful and interesting (which I always have), why not entertain them.

• India
27 Nov 09
Hello bounce58 this is checkmail and yeah there have been certain targetted friendship requests towards me, and me too accepted it as an Mylot friends.Yeah later got surprise by the message about being a referal for them, but most of the sites were already joined, and had some experience in it, good and bitter too.So i ddi't turn down the friendship but turn down th eoffer.Well what i think is they try to get adv over us before making us friends.We should always check the payouts through some screenshots of their payments.This might help us.Well in todays world of business , especially in online referal and affilate world its possible strategy.

• United States
27 Nov 09
I have had that happen to me once so far, and I am not really looking forward to it happening again. I reported the person, because they sent me a PM asking me to send money to their Paypal account to help thus and such a person that really needs the money for blah, blah, blah. I do not know this person and had only just accepted their friend request and already they are asking for money

... my real friends would know better, because they know that I do not have any - lol!

• Greece
27 Nov 09
Purple, I am busy compiling my pm scam as I write so do expect to hear from me soon with my request that you transfer all your mylot earnings to my pay pal account forthwith OR ELSE

Or else I will

you, stalk you, and force you to attend another 17 installments of the body.

. Opps just realised my stalker might take this seriously and report me. DISCLAIME:I ONLY INTEND TO SCAM EXISTING FRIENDS AND STALK EXISTING FRIENDS.

• Canada
27 Nov 09
Hey purplealabaster. That happened to you!? The nerve huh?! Hey thea09, have you accepted my friend request yet? I'm starting to change my mind if you want all my earnings transferred to your paypal account. All my .53? Just kidding. hehe

What's the body? Are those the discussions you started about murder? I think I read those before, and I felt I had nothing constructive to contribute.

• Greece
27 Nov 09
Patience please Bounce, this is my whole point, I don't just accept people I've run into only once but people I have regualar interaction with. You sit there undeleted. Yes the bodies are just fripperish fun for like minded serial killers.


• Greece
27 Nov 09
Good morning Bounce, it goes on and many are shocked that their new friends resort to such tactics, but here's the thing, they aren't friends but a name you've taken off a list. Now they have access to your pm they can also continue to pm you with spam even if you delte them. If they do it immediately I would delete without even a word. You are simply being used. My tip, always check how many friends they've recrutied on their friends list before accepting anyone.

• Canada
27 Nov 09
They can still do that? They can still spam me even if I delete them? I should have learned from an earlier discussion we had today. From now on, I would do some snooping around first before I accept. I did feel that I was just used. And I did...(your 3rd sentence)

Thanks thea09.

• Greece
27 Nov 09
I do know that I deleted someone because of pms and they still continued to pm which I thought was odd, which is why I advise to just delete without responding. Mine wasn't a spammer but it must work on the same principal and I think if you respond to say no thank you you have activated the pm at your end for them to continue to haunt you. I have only had 2 people ever spend me spam but they were people I'd already had contact with on the list and I just politely declined the spam and they haven't done it since. Well I did delete one as suddenly all his discussions became about making money.

• Philippines
27 Nov 09
It happened to me as well but i can't really blame these guys. If you don't like to be spammed just inform them I'm sure they will no longer bother you with their links. Its common knowledge that a lot are looking for ways to increase their online earnings and getting direct referrals are one of them. And one of the easiest way to get referrals is by sending an invitation through PM here on mylot. Unfortunately, some fail to realize that sending unsolicited emails especially links is considered annoying to some. Cheers!

• Canada
27 Nov 09
Yes, I don't mind getting an invitation to join something if it were sent by known friend. I'd even consider it. If it were a long time friend then at least I'd know about their reputation, or I can harass them after if it turned out to be a scam. But, if it were somebody you didn't know, then it becomes annoying.