Has your pet done a mischievous thing that made you laugh instead of angry?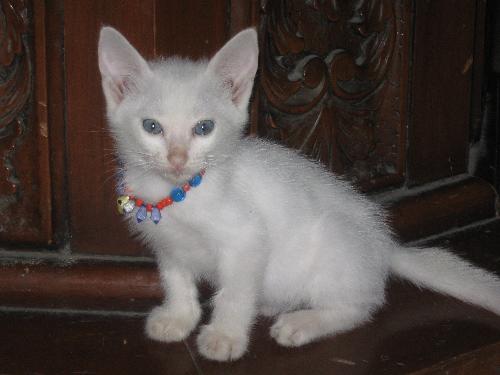 Philippines
November 30, 2009 12:58am CST
My son's pet kitten is used to cuddling by anyone who sits in front of the laptop or computer. Once, he was so engrossed with what he was doing online, the kitten moved towards the keyboard and stepped on the "power" button and the computer screen went pfffft, and got disconnected, lol. Instead of getting mad, it made him laugh at what the kitten did. Was there any mischievous thing that your pet did in the past which made you laugh or smile instead of mad? Please share.
8 responses

• United States
30 Nov 09
I guess pets are a lot like children. They are always up to something. My dog ate my underwear once. I didn't know she did it until I was sitting in the living room with her and she started throwing up colorful fabric. That will teach her. That dog would eat everything. I had a cat that pulled my hamburger meat that I was defrosting, to rest in front of where I put my dog. She then managed to open the package with her claws and left it there. I guess she thought I was going to think the dog did it or maybe she was trying to share. It was the same dog that would eat anything. LOL

• Philippines
1 Dec 09
Yes, pets are a lot like children. We never can expect what would next happen. I am laughing here with what your dog did. This is the first time I hear something of this kind. No other pet, I think, can beat that, hahaha. Your pet cat was trying to think ahead. Wise one, lol. Thanks for making my day. Have a nice day, too.


• Boston, Massachusetts
30 Nov 09
Hi Moneymakingtoday, This happened two years ago when i went home to the province to visit my parents. My mom was doing her crochet then. She stood up to go to the bathroom. When she returned she noticed that something is wrong with the crochet blouse...she realized then that our kitten pulled over the strings and went outside the house to the street. Gosh, it was terrible. the kitten pulled so much of my mom's work!

• Boston, Massachusetts
30 Nov 09
of course it made us all laugh following where the end of the thread so that we can see who's the culprit--no other than our cutie kitten!

• Philippines
30 Nov 09
Hahahaha. We can only laugh at what she did. She cannot be faulted for a thing she did not understand. Kittens love to play with anything they find rolling or moving. Even with balls of paper we make and throw at them, they love touching it and when it moves, they run after them. I can only imagine how your mom felt. Thanks for sharing, msfrancisco. Enjoy our one-day holiday today!

• Boston, Massachusetts
30 Nov 09
my mom was laughing in tears...she repeated everything and that blouse is supposed to be delivered that day. what a happy mess! grrrrrr lovely kitten LOL. This discussion refreshes that fun moment with our kitten.


• Hartford, Connecticut
30 Nov 09
This Happens so much in my house. but one similar to your story was one of my cats also sitting with me at the computer and I was typing in a chat box and the cat stepped on a bunch of letters and hit enter. Next I know there is the unintelligible jumble of letters in the chat. I had to explain to everyone in the room that my cat did it and they all laughed hysterically. But hey often do so many things as I have 14 cats and 4 dogs.. If it wasn't for my animals I don't know how often I would laugh. but they make me smile everyday at their antics!

• Philippines
30 Nov 09
I am laughing here. I can only imagine the surprise that the other people in the room had upon seeing their screens and thought to have come from you. And ... that is a lot of cats and dogs you have. You must be very happy with their antics. Surely, pets fill our day and we have our fun moments with them.


• United States
1 Dec 09
Our 5 year old 12 pound cat sometimes will run through the house as if his tail were on fire. When he gets to the kitchen he will put on his brakes and slide on the throw rug we keep in front of the sink. My husband gets annoyed because the rug is out of place and rumpled, but it is so funny to see that cat go sliding across the floor like a child on a sled.

• Philippines
1 Dec 09
Hi, bellis. The cat was surely enjoying what he did, lol. It is funny how our pets surprise us with their antics. Sometimes they irritate us but we can only laugh at their antics.

•
30 Nov 09
My dog used to eat all the under wear that was clean as well as the ones that were about to be washed.He was not worried if they were thongs with metal jewels on either as they were the ones he liked the most,thankfully he would always poo them out so no vets bills and the dog never came to any harm.

• Philippines
1 Dec 09
Hahahaha, I am laughing here. I am sharing this with my children who are also laughing. I can relate to that and it happened to us, too. The mature pet dog bit the short pants of our house helper and it was so tattered that he can no longer wear it. We were just laughing with what the dog did. Thanks for sharing and have a nice day!

• Latvia
30 Nov 09
We have a dog Labrador and she likes to jump in our bedroom bed and sleep there putting her head on the pillow, that annoys my boyfriend because her black fur then is everywhere...but I allow her to jump and sleep in the bed because she cannot make me mad, she is so sweet and it looks so sweet when she jumps or slowly climbs onto the bed...it looks so sweet and funny!!! he-he...

• Philippines
1 Dec 09
Hahaha, she is so sweet. I am sure she makes you happy.


• Philippines
30 Nov 09
I have a pet dog and every time i also open the laptop he would climb up to my lap and watch on the screen. He really enjoys watching youtube one time i was watching a video of funny dogs all of a sudden he stepped on the keyboards and bark so loud because he saw the dogs and he hears the sound of barking. I really enjoy while he was doing that. His tails wiggle and he would lick my face every time I would cut the video that i was watching.

• Latvia
30 Nov 09
That's a funny sorry!!! lol My dog comes upon me and licks my face when I am watching TV and laughing about something because she is thinking that I want to play with her....

• Canada
30 Nov 09
yah! my dog is trying to reach my noodles when i was taking a pee when i return back the noodles was poured on his head and he looks at me with a sad face...i was pist off by what the heck my dog got his long white hair


• Philippines
30 Nov 09
We are just faced with unending antics by our pets. We just have to laugh it off. I can imagine how you felt seeing it happen. I can imagine seeing your pet dog with that sad face, lol. Animals seem to understand the mischievous things they do. Have a nice day.