How many times do you chew your food before swallowing?

December 3, 2009 6:41am CST
I am not a nutrition expert but I am going with what my mom used to tell me when I was little , chew your food 20 or more times before swallowing. I don't know if anyone really keeps track of how many times they chew their food , but I am quite sure that it is important to chew at least for a certain amount of time before swallowing as it helps in digestion. So anyway , I am curious to know how many times you are supposed to chew depending on what you eat and other factors that affect the texture of the food in your mouth. If you have the answer or a good suggestion , maybe something you learnt from your parents (mom) ..please share.
3 responses

• Spain
3 Dec 09
lol, this is a really good question! I like it. Uh, I honestly don´t count how many times I chew, I guess it depends of what I eat also you know.. If its really crunchy then I chew more? I have heard that you must crew 40 times before swallowing! But I don't have the patience to count as I chew.

• Spain
3 Dec 09
lol, you actually tryed it? lol... Uh! Well I don't count but i bet it must be very tired and irritating!

• Philippines
26 Apr 10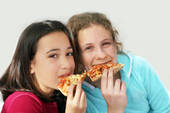 it makes me laugh by your question. i mean do you really have to count that? well,as for me it depends on the food,if its just soft and can easily be swallowed,i think its much less chewing or sometimes no chewing at all. chewing really helps to digestion,i think its up to the person who are eating to provide time to chew his/her food to be easily swallowed. when we eat,don't get too rush on it.be sure to chew food properly to be enough to swallow.

• Philippines
4 Dec 09
depending on the food as i chew meat longer than i chew vegetables and fish. the longer i chew to the hard meat which is not cooked thoroughly it only waste the meal. most of the times we chew every time one eat you could not just count it. though, chewing or swallowing is a normal reflexes of mouth without it the people would starve if it is not allowed helped in eating.