Christmas

United States
December 7, 2009 10:20am CST
Christmas!!!! Many will agree it is the most wonderful time of the year - you are likely to see more poeple smiling, stopping to be kind to one another and also a time one ponders where you are in life... Why do you think Christmas brings all these good things in us - some of my friends are not even religious...yet, they love Xmas! What makes this time of th eyear so special - I refuse to go with the commercial bits and would like to believe that Christmas brings out the best in us that is always there...
8 responses

•
7 Dec 09
I agree with you, I love Christmas time, its a shame people wait until a special event before they are more open, with each other. It brings out the good in people, we are usually at our most relaxed, once, the shopping, present buying has been done, Christmas, after all, is how we make it, not, how, someone, tells us it should be like. No-one, makes us spend lots of money, we do this by ourselves. Of course, if, we cannot treat someone, at Christmas, when, can we? I beleive in God, he, does make the day more meaning, I, also, feel, we should be thinking of others, all the time, not, just at Christmas.

• United States
8 Dec 09
Very well written Annmarks - yes, Christmas is what we make it not what others tell us it is!!! Oh, and I soooooooooooo agree with the fact that we must think of others during the holiday season but not only...

• Canada
7 Dec 09
In most cases yes, but there are those cases where Christmas brings out the worst in people, causing bizarre family rifts, and doing all kinds of crazy things. I am one of those people who gets depressed at Christmas, especially this year, due to a number of strange circumstances. As a result, my husband and I are getting out of town for the day, and escaping on a mini-vacation.

• United States
8 Dec 09
Sounds great that you will be doing something totally unlike Xmas and if that makes you happy - what else can you ask for...Sorry to hear that this year is particularily bad for you and I do hope it will get better.

•
10 Dec 09
Christmas can bring out the good in people. Sure, their maybe people who don't like the Christmas season and some who are not 'effected' by the Christmas season that makes them think of it as a special season. Some may not act any different at Christmas to other times. But yes, with somepeople it can encourage them to be kind and maybe change their manner in some ways. Sometimes people out and about in the street at Christmas time whilst maybe Christmas shopping may seem nicer then usual. But then perhaps the other side of this is that at Christmas time it seems that shoppers can get ruder with more 'pushyness' to fellow shoppers! But still yes Christmas can hep bring out the good in people.

• Hungary
8 Dec 09
well, i like to stay at home and be with my family a lot, met other family members, i don't met each and every day, eat some cookie (lol) and enjoy the little time without the university..:D:D have a nice day, and merry chritmas!:)

• India
8 Dec 09
To me, Christmas is the chance for everyone in my family to get together. The chance for us to catch up, laugh, and enjoy each others company. We don't all get together very often, and Christmas affords us that opportunity. I think that we get so busy in the year, we forget to think about those close to us and make sure to call and see how they are doing. Christmas renews the family bond that fades away throughout the year for some of us.


• Philippines
8 Dec 09
Yes, I agree Christmas is the most wonderful time of the year for us who celebrates it. Those who believes in Christmas but don't celebrate anymore due to the commercialization of it has thier reasons to. I always see more in the positive light of what Christmas means and brings. yes, people are happier. I'm broke this Christmas but I don't just count material blessings. Blessings come in many ways and I'm thankful for that. And those who are not even religious becomes religious come Christmas time.

• Philippines
7 Dec 09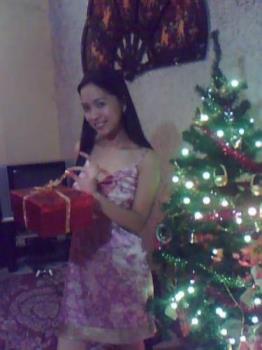 Yes Christmas is the most wonderful time of the year, it is the celebration of the birth of our Savior Jesus Christ. It is also a time of the year where people gathered together. A time of the year when the world is here, giving and exchanging gifts of love, celebrating a joyful dinner, praying as one, uniting to everyone at peace, and thanking the Lord for the whole year and another years to come. A Merry Christmas to Everyone. God bless.