Peppermint Bark Candy

United States
December 7, 2009 11:12pm CST
I have heard of this new Christmas candy that everyone seems to of known of for ever and I was just wondering if anyone had any good recipes for it? I searched the internet and have found a couple but I was just looking for maybe a different version of the candy??
5 responses


• United States
8 Dec 09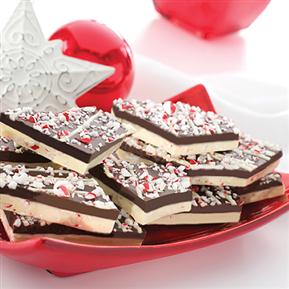 Hello, it is a candy that has a layer of dark chocolate then a layer of of white chocolate topped with peppermint candies...I have found a few recipes but was looking for what other people might add to them. Thanks for your response gabs...I have attached a picture for you=)

• United States
22 Dec 09
Peppermint bark is delicious. ghiradelli has some peppermint chocolate squares that are awesome too!

• United States
22 Dec 09
That is weird because I just saw a commercial for the ghiradelli barks and they look just as good...thanks for sharing trvlarrngr

• United States
13 Dec 09
When I used to work at the hospital, one of the girls that I worked with made this as well and it was so good. So, a couple of years ago I decided to give it a try for myself. I melted my dark chocolate first in the microwave and then poured it over a wax paper covered cookie sheet. Then I melted some white chocolate bark (also in the microwave) and mixed in the crushed candy canes with that before I poured that over the top of the dark chocolate and then let it all harden. It turned out wonderfully and it really didn't take that long to make at all. The biggest tip that I can give for melting chocolate in the microwave is to turn the power down to 70 percent because that decreases the chance of having a mess to clean up in your microwave.

• United States
16 Dec 09
Well that sounds easy enough...I will have to give it a try, I am always thinking of making the same thing but instead of the peppermint on top trying something like crushed oreos or peanut butter cups...thanks for your response dorannmwin

• United States
8 Dec 09
The only way my aunt had made it was just to melt white chocolate bark & put crushed peppermint in it, mix it and pour it on wax paper to dry. Break it up and enjoy.

• United States
10 Dec 09
That sounds like a very simple way to make them although I would also probably try to add some white chocolate to them. I am trying to think up some other candies that might be able to be ctushed up and added to the top as well...to give a little extra flavoring. Thanks for your response 3snugglebunnies

• United States
8 Dec 09
I've never made it, but I did have some about 4-5 years ago. A neighbor gave us a tin of it, you can buy them in the stores. I can't compare the store bought to home made because that was the only time I ever tried it. I'm not a huge fan of peppermint candies, but small bits of the peppermint bark wasn't bad at all.

• United States
8 Dec 09
I am the same way not a big fam of the peppermint but after hearing someone talking about it tasting some at a school gathering I thought they were really good and wasn't an over load of peppermint. I have went to a few different recipe sites but i am looking more for different variations that people may make...Thanks for your response kats