how to be happy??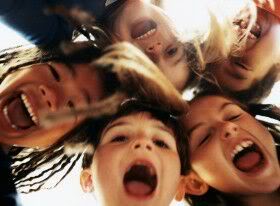 Philippines
December 8, 2009 12:43pm CST
simple question it is... but to realize the real "how", is a really difficult one... there are a lot of topics to consider if you really want to know how... and for me, what i really wanted was, is to achieve happiness in all areas of my life,and that is broad.. but i truly believe it's possible! ;) happiness is a state of being delighted, contented or having joy that is incomparable.. it is magic.. a feeling that empower us from within.. how you see and comprehend things that surrounds you actually affects how you spend your day, it is simple as to how you would want to do right now to make yourself happy at this very moment, simple things and little things do count in achieving longer and lasting happiness myLotters... let's not be afraid to fail in anything for happiness comes to those who are brave enough to express himself to the world..
7 responses

• Saudi Arabia
8 Dec 09
thanks your this topic,because i am unhappiness at this moment .and i don't know what happened with me.also i idn't know how to take myself happy at this time,,,,happy every day!

• Philippines
9 Dec 09
don't let yourself be unhappy, instead do things that you think would bring happiness to you... sometimes it seems so hard to do, but we have to realize that we ourselves is the only one that can determine our happiness, our mistake is we first find it in other people but never realized that we must enjoy first our own company before we can really share and find happiness in others... make simple things count and appreciate everything around you, specially yourself...

• Malta
8 Dec 09
To be happy i always be positive. I appreciate what i have and when i don't have and whenever i have a bad thought that triggers unhappiness, i remove it from my mind and think about something happy. For me the best way to be happy is to converse a lot with your family or friends. I believe a good conversation leads to happiness. Even when i chat to a good friend on the msn, who i don't really even know. However, the fact that your friends sare the shame 'likes' automatically increases your chance of constantly staying happy.

• Philippines
8 Dec 09
you have a good outlook in your life and that inspires me... always be positive, appreciate and good conversation really starts the cycle of happiness!!! happy mylotting!

• India
8 Dec 09
Haha thats a million dollar question.If we can find a concrete answer to this question and follow i then I guess this world should have been a paradise. You have given a good account of how we can be happy.I should like to add a proverb "The grass on the other side always looks greener".We human beings are never satisfied with what we get and thats why there's so many wars,so much tension in this world. If we can make ourselves satisfied with whatever we have and understand there values,then I must say "We all can be happy".

• Philippines
8 Dec 09
people really tend to find "better" and then never satisfies.. at times i look at it as part of growing rather maturing... best example is if we were still a baby, we wanted milk a lot.. but as we age, our tummy is not satisfied with it, we look for better food,right? i believe in life also, we have to grow but contentment for me is being in an attitude of gratitude, in everything be thankful...you may prefer something else in the future but now you are thankful in what you have... having the desire to be anyone and have more in life is not a bad thing or selfish thing to do, we just have to learn to share what we are an what we have....

• United States
8 Dec 09
HI, there are three things in my life are actually make me happy... One, for my children be great person and stay healthy. Second, Great financial always. Third, my whole family are in good shape then im happy, especially the husband.

• Philippines
8 Dec 09
simple things to appreciate in life is indeed powerful, and having inspiration(your family) to be really happy is a good way to start everyday... stay happy and keep up the GOOD work.. ;)


• China
9 Dec 09
hi,musikal,it's easy to ask this kind of question,but it's really hard to answer.but i think ,it want to be happy,pls don't care and think so much.after working,find a good way to relax .