Animal family life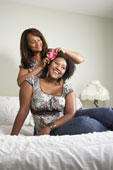 India
December 8, 2009 7:40pm CST
Have you seen how animals go about their family life? Once the babes are big enough to look after themselves they no longer want them around. But we will cling to our children and sometimes go overboard ruling their lives. What is your experience?
2 responses

• Philippines
9 Dec 09
I have the opportunity to look how some animals behave themselves as they pro-create, grow and become independent. Those are animal traits and God made them that way. Animals take care of their babies until they are able to feed themselves. That is the time that the parents can abandon them to themselves and produce babies again. The good thing about animals is that they don't abandon their babies unlike some humans.


• Garden Grove, California
9 Dec 09
hi allknowing yes sometimes parents cannot let go and hang on until its pathetic. my dad was furious over my

choice of a mate.okay it would have been different if I was a youngster say 16 or so but my lord I was thirty one, so just a minute Dad. You can not dictate to me who I marry or when.so he cut me out of his will thinking I guess I would just meekly say goodbye to the man I loved and move back home.well I did not and I loved him and we had a great marriage. parents must let go long before then.



• India
12 Dec 09
Without meaning to be harsh on patents they do have vested interests sometimes to put their foot down about certian decisons that children make.