Book: The Time Of My Life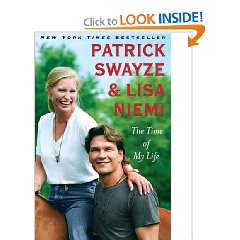 United States
December 9, 2009 1:21am CST
I finally finished reading Patrick Swayze and his wife Lisa's book and I have to say, I LOVED IT!! It's such a heartwarming, down to earth and very sensitive book and it's oh so hard to put down! Of course with my hectic life, it took me longer than normal to read it, roughly about two weeks but I enjoyed every bit of it. If you're a Patrick Swayze fan, I highly recommend getting this book!
8 responses

• United States
9 Dec 09
Thanks for the tip. I did like him especially in 'dirty dancing'. Hope u have a great day.

• United States
9 Dec 09
Hi Jo! Are you much into reading? If you are, this is one great book! Hubby is thinking of reading it and he's not the reading kind! I read parts of the book to him and he's really interested in it so maybe you would too? I haven't been on here much as of late because I've been really fighting depression. Winter time always does this to me especially during the holidays AND with all the rain we've been getting. UGH! Being cooped up in the house all the time really grates on my nerves in a huge way. I can take a day or two of rain but a day or two here and then a dry day then another day or two of rain continuously like this for several months. It's enough to drive anybody nuts! There's only so much I can find to do inside then I run out of things to get into. Just thought I'd let you know so you won't think I forgot you because I surely haven't!!

• United States
9 Dec 09
i LOVE TO READ. i ALWAYS HAVE A BOOK STARTED. Sorry u aren't feeling well. I have always been an inside person & it's a good thing because i stay in so much now. I never think much about it but know it does bother alot of people. I just get out when i absolutely have to rally i should get out more i'm told, lol. I hope u get to feeling better soon & get better adjusted to being in all the time because it's just that time of the year for thee bad weather. Take care. jo

• United States
9 Dec 09
Maybe Santa can bring it to me...... I can hope. I miss him already. You know when he passed they brought up these little rough patches that he had in his life an all I could think is "why don't they talk about how he over came it all?" I would love to read their words......

• United States
9 Dec 09
Oh the tabloid loves to bring people down especially the stars. That's why I don't support their magazines. It's like because they're stars, they're not allowed to have a private life OR be human and do anything wrong. Yeah right.

This book Patrick and Lisa wrote it and they did it in a way as if they were talking to you face to face. It's so well written and very happy that they did it. Make sure Santa knows you want it!! Hope you get it!!

• Australia
9 Dec 09
Thanks for recommending this one. I was looking for a new book to get myself for Christmas and this one may have to be it. I think I would love to read more about this great love story and everything that went with it. I liked Patrick Swayze and my heart broke when I heard how sick he was; it's not fair he should have passed so soon. I will be getting his book. Did you cry? I bet I will cry, even during happy moments I will have tears in my eyes!

• United States
9 Dec 09
This is the book for you then! I'm serious, my husband is even thinking of reading it and he's not the reading kind! That says a lot, doesn't it? lol I didn't cry because I'm not the crying type unless made really mad or something big happens within my family and friends but to those who are, such as yourself, it will make you cry without a doubt. It's a GREAT book!


• United States
12 Dec 09
I will look for this one at the library. I've always like Mr. Swayze's work and admired his comportment in his personal life. I don't ever remember seeing any kind of scandal about him and have heard he was a real pleasure to work with. It will be nice to read about a nice person with good ethics, one who had some morals. Thanks for the tip!

• United States
10 Dec 09
I want to read it but don't have time with 3 kids and my own business. Sorry for the generic comment but I'm WAAAAAY behind on my friends posts but want everyone to get their pennies, so here I am. Hi and Happy Holidays if we don't cross each others paths before then.


• United Kingdom
9 Dec 09
Well Cats I did not know there was such a book and I will certainly look out for out His Wife Lisa was on an Interview yesterday morning here on TV and I really felt for her I just wanted to hug, she put on a very brave Face but you could see the pain in her eyes