Ask me a question about Chinese Culture and I will try to answer!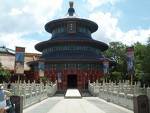 Canada
November 14, 2006 11:19pm CST
Someone mailed me a message wanting to learn about the Chinese Culture. I can honestly say I am more "Canadianized" because I was born in Canada, but I do know a few things. I will try my best to answer your question!
8 responses

• Bangladesh
16 Nov 06
what are the daily main foods in chinese culture.

• Singapore
16 Nov 06

• Canada
16 Nov 06
Well, chinese food is very healthy for you. If you go to Chinese restaurants , they pretty much stir fry almost everything. They have a lot of fish, tofu, chinese vegetable food dishes. My mom cooks our dinner which contains fish, a meat, and a chinese vegetable everyday. A lot of older generation chinese parents cooks soup with chinese herbs that are healthy for your eyes, health, ect. My mom is one of those people. I hated having certain fruits but I realize the benefits of it now.


• Canada
16 Nov 06
Yes, many Chinese people believe in positioning furniture, and objects in a certain way to enhance the balance of yin and yan. I've heard that you arrange your bed in a certain way to keep off the evil spirits. Fact: To say how are you in Cantonese is "Nay Hoa Mah"

• United States
15 Nov 06
Thanks for responding to my quest for learning what is the ecconomy like and the people


• United States
15 Nov 06
In Chinese culture, do women have as many freedoms as men?

• Canada
15 Nov 06
Yes for sure! Many woman in the chinese culture study and can become anything they want. I have female cousins that are Computer Engineers, Financial Advisors and they're in their 40's. My mom said that about 50 years ago, in her era most women were not really allowed to go to school, but that has changed. So it really is similar to the situation in Canada were woman were not allowed to vote not long ago. And now woman can be anything we want which is great!

• United States
15 Nov 06
That really is great. Thanks for the information, it's very interesting!