which glasses shop is the best one? lower price and good quality.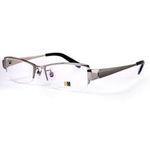 China
December 17, 2009 10:01pm CST

i must be wear glasses every day as my eyes have more than 600 degree,my current glasses used to nearly two years.so i need to changed a new one.it is really confuse thing.no matter the frame or glasses's price is very large.the distance maybe have RMB500-RMB1000,as you know, the Chinese new years will be coming,it is time for spend more money on most things,the balance of glasses is not very,on the other hand, there is also need to considered the technology of which glasses is fit better.hi, mylot, have you had those problem? could you share with us, tks!

good luck and have a nice day!
7 responses

• Canada
18 Dec 09
I get my glasses from Zenni Optical, at zennioptical.com. You have to use your imagination a bit, but between me and my girl we got 5 pairs, two of which were sunglasses for like $200. One pair got sat on and broke, another I had a child grabbed and pulled apart. And my sunglasses busted too come to think of it. My girl on the other hand, has not had a problem with any of her glasses, she is far more careful then I, but since they are so inexpensive we don't really worry about it. Check it out. Cheers.

• Singapore
18 Dec 09
Well, if it's something that u really need, u cant save on the money.. Go ahead and spend, when it will be able to last u long.. If not, when u are getting some cheap ones out there, it will only spoil your eyesight further, and the glasses wont last, making u paying even more for new ones.. haha =D

• China
19 Dec 09
My glasses are also 600 degrees. I have been wearing mine since 2004. This pair of glasses of mine is still in good condition. It is very expensive as I paid more than 600 hundred yuan for it. But it is worth it for its good quality.

• China
21 Dec 09
wow,the quality of this glasses is quite good, for me,my glass often changed less than two years. what's the brand of this? could you share with me. i also want to own a good quality glasses. good luck and have a nice day!

• China
21 Dec 09
Now I have found the receipt to find that it was bought in March, 2004 in KangMing Glass Shop. But my glasses are branded with Yishi. It cost me 660RMB. It is really very good in quality. I am sure that it will last a long time as I take good care of my glasses. I love my glasses and it has a pair of extra glasses as sun-glasses in summer. What I need to do is to place them before my real glasses if I need to use them in summer. It makes the glasses more beautiful if I use the extra glasses.

• United States
18 Dec 09
i THINK IT DEPENDS ON WHERE THE BEST DOCTOR IS instead of other things such as price etc. I know wal-mart has cheaper frames than the regular dr. does but i do think u need to think of the dr.'s credentials first. Good luvk.

• China
21 Dec 09
thank you for you good suggestion.wal-mart is a large supermarket,in our country,every factory want to became wal-mart's provider,as if the factory have this chance,it is very easy to become a large factory. and get the best profit.however, in here, there is no wal-mart.we prefer to the shop which has a good optometrist and then choose a good description former directly.good luck and have a nice day!

• United States
21 Dec 09
I think u wise in worrying about the dr. first. My eyes are pretty bad plus i have an aneurysm behing my right eye so i have to be real careful w/my eyes. Hope u find u a good dr.

• United States
18 Dec 09
It is the custom in the US to go to a optician or an ophthalmologist, doctors who specialize in eye care, for an examination. The doctor will write a prescription for the correct lenses for your eyes. The prescription is taken to a shop that sells eyeglasses, where you select the frame you desire. The prescription will be left for a technician to grind the lenses to match your prescription. If the doctor honest and he/she finds that all you need are ordinary reading glasses, you will be told to go to a retail shop and buy which ever magnification you feel most comfortable with. I have to wear prescription glasses because one eye is much stronger than the other. Also, I need glasses for both near and far (bifocals). I pay extra for progressive lenses. The correction in my lenses change gradually for far, medium and close-up viewing.

• United States
18 Dec 09
I heard about Zenni Optical from an economist who gets his glasses from them for $8 a pair. A friend of mine got two pairs from them and loves them! I plan to get mine from them when I need them. Why spend so much money on glasses? I don't care that they are made in China, they are quality products that are cheap! Maybe you should try them and save a lot of money!

• Canada
18 Dec 09
I will be waiting to read all the answers to your discussion, as I am desperately in need of NEW glasses...and there are so many options! Happy Holidays!