What is your favorite toothpaste?

France
6 responses

• United States
21 Dec 09
I use Xylitol Toothpaste. Any brand with xylitol is good. I like "Peppermint Twist Original W/Xylitol". Basically you may want to look for toothpaste without fluoride and with natural sugar.

•
20 Dec 09
there are lots of herbal toothpastes that don't have a very strong mint taste - i checked your country before replying and in france your best bet is just to go into a healthfood shop. another possibility is one of the gentle toothpastes meant for children - i think you can get strawberry and lemon flavours...

• Philippines
22 Dec 09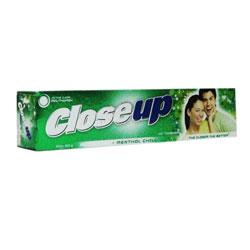 Nope, sorry, I dont know any "original or natural toothpaste taste". My favorite toothpaste, however, is Close Up Menthol Chill. It just leaves that cool fresh feeling after every brush. ....LOL

That sounded like a line from a toothpaste commercial.

Though I have read reviews that did not like this toothpaste's taste. So I guess that just me.


• India
21 Dec 09
You have to go to go dentist and take advice about tooth paste. There are several toothpaste in market Colgate, Closeup, Pepsodent, etc. There is no taste in tooth paste, what ever taste you feel is depend on manufacture what he add in it. Although I use 'Glister' Toothpaste from Amway. Its really very good for teeth.

• India
20 Dec 09
I actually use Close-up or pepsodent. If you are from India then you can get a toothpaste called Babool or you can get a Dabur lal dantamanjan. They got natural taste.

• Italy
20 Dec 09
My favourite toothpaste is AZ, i don't know the exactly name of the toothpaste but it's a paste with a lot of mint, i like mint and the sensation of freshnes inside my mouth. I brush my teeth 3 times in a day also beacause i like this sensation. Another paste that i like is another AZ paste but with forest fruits, it's a strange sensation and i feel strange with this taste in my mouth.