Do you prefer buffet or ala-carte ?

Canada
December 24, 2009 7:59pm CST
When you go to restaurants for lunch or dinner, do you prefer buffet or ala-carte ? I would usually prefer buffet. That gives all the varieties and choices of soup, salad, the main dishes, and the dessert items. I am not a vegetarian, but I do like vegetable items. And, I am a dessert addict. I would enjoy a choice of desserts. That's one reason why I enjoy a buffet. So, what are your preferences ?
7 responses

• United States
25 Dec 09
Hey greenline! I am not usually a buffet person, unless it is a really fantatic Chinese Food Buffet! I have one favorite place where me and my friends go for a $7.99 lunch or a $10.99 dinner! It has incredible food! It isn't a great looking place, kind of shabby, but the food is to die for! And everything is fresh and wonderful all the way to dessert! I don't eat the soup because I am not a soup person and it is a waste and too filling! But, in any other type of restaurant I don't like buffets! I am not big on getting up and getting my own food! When I go out I like to be served! I only make an exception in this one Chinese Restaurant! My other favorite place for a good dinner here where I live is Outback Steakhouse! For $15.95 you get a 9 ounce steak (great cut), salad of choice, side of choice, fresh hot bread! The food is incredible! The steak is always done to perfection! That is my favorite place to go for dinner! It cost about $20 per person total and it is definitely worth every penny and you do have to wait sometimes quite awhile, but it still is worth the wait!

• United States
25 Dec 09
I have always wanted to try the Outback Steakhouse

. We don't have one here in Jasper, though. I think they have several in Birmingham. I know I've seen at least one over there. However, it's an hour drive from here to Birmingham. Maybe someday I will get to try one. I hope you have a Merry Christmas tomorrow!

Kathy.

• Canada
14 Sep 11
Hi Opal. I like Chinese Food Buffet too. There is a huge Chinatown here in the city I live, and there are many excellent Chinese restaurants serving buffets with a variety of delicious preparations. I go to those restaurants just about every weekend.

• Philippines
25 Dec 09
Hi. Depends on the occasion. I prefer buffet when hanging out with friends. This gives us variety of food choices from appetizer, main course, and dessert. However, I prefer ala-carte for business dining or meetings purposes.

• Canada
14 Sep 11
Yes, I agree with you. Business meetings often go for ala-carte, very high-priced ones too. Of course, the foods served are very delicious, and specialized cuisines.

• Australia
25 Dec 09
Oh I love a buffet, unfortunately here in Melbourne there isn't many left as some people think it is not the healthiest way to serve food...I used to even love the salad bars they used to have places but not many of those now either...

• Canada
14 Sep 11
Oh, I see. Yeah, people will have different views about buffets. Salad bars are also among my favorites too.

• United States
31 Dec 09
Just give me a pizza, donuts and Pepsi and I am happy.

• Canada
14 Sep 11
Hi Sarah. How are you ? Only pizza, donuts, and Pepsi ? Well, all three items are very tasty and mouth-watering, no doubt. My favorite pizza would be hawaiian pizza, thick crust with lots of cheese and pineapple. Yummy, yummy !

• United States
14 Sep 11
Alas, I don't like pineapple but I do agree on a thick crust. But It is pepperoni and maybe a few green pepper.

• Philippines
15 Sep 11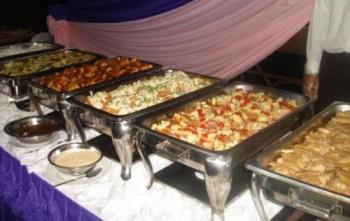 I also prefer buffet over ala carte because this gives me a good chance to choose only those food that I like and can even indulge as much as I can in my favorites. Like you I also am a dessert lover so expect me to get a lot of desserts after the main course. I prefer fruits and salads for my desserts and not much on sweets though.

• Canada
28 Oct 11
Hello Salonga. Yes, you are very much like me. There are certain things I cannot eat. So, at buffets, I have the option of taking just the dishes that I like and can eat. Oh yes, dessert is a favorite. I enjoy that very much.


• Canada
28 Oct 11
Hello Professor. Yes, I see. That is the traditional Indian way, right ? Meal served on fresh green leaves. I have seen that while visiting one of my friends place during one of my visits to India some time ago.

• United States
26 Dec 09
I hardly go out to eat anymore because of the economy and since my hubby and I split, there isn't much money to go around. However, when I used to like to go out, I would much rather have a buffet. Now I realize this is probably not the most healthy way to go, but I really feel by going to a buffet, if you are really hungry, you can get a dinner worth what you pay for. An additional benefit is that with a buffet, you can try a little bit of everything without taking the chance of ordering something that you might not like. Happy MyLotting! Char


• Canada
14 Sep 11
Hi Char. Yes, above all, that is the reason I prefer buffets too. There is a variety of choices, and one can enjoy just those which one prefers. And, I am addicted to different kinds of desserts too. Yummy, yummy !