Cat died :(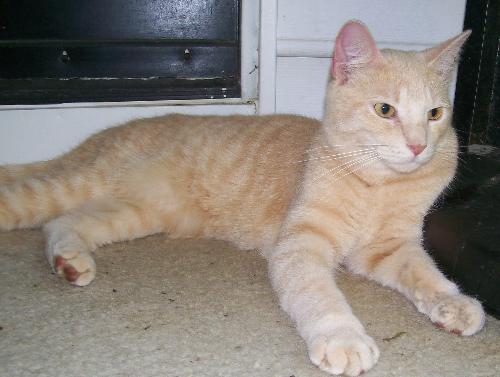 United States
December 29, 2009 4:28pm CST
There had been the cutest little cat hanging around our apartment complex since early October. Actually, two families ended up having a spat over who was going to adopt it. I would have taken it in long ago but we already have 1 cat & 1 dog so we couldn't have any other pets in our apartment, per policy. Anyway, one family took it in around Thanksgiving and it died about 3 weeks later. :( The vet said it had Feline Infectious Peritonitis. Anyone ever heard of this before?I have attached a pic of the cat. I had taken it awhile back to post to see if it was lost. I miss the poor thing... it was the sweetest cat I've ever met, aside from my own baby.
7 responses

• United States
30 Dec 09
Hi, koalatbs. I am very sorry that this cat has passed away. It was a very beautiful cat. I don't know what the syndrome means that this cat had. It sounds very serious. May thus cat's soul be in Heaven, always and forever.

I am happy to know that you did at least had time to spend with the cat before it passed away. I know that you had many wonderful memories while it lasted. Take care.

• United States
29 Dec 09
I have lost a couple of cats to FIP I have to ask, did she get really fat looking or stay slim, maybe even get really thin looking? FIP comes in 2 forms, the "wet" form that is more contagious and the "dry" form. The "wet" makes them look fat, and it sheds more of the virus than the "dry" form. I would tell the family that they need to wash everything she had very well, even getting rid of things she might've eaten from if they aren't prepared to disinfect them - as in throw them away - so no other cat will catch it. I'm sorry that pretty kitty had such a terrible thing. Both of the cats I had had the dry form and no other cats caught it from them.

• Philippines
30 Dec 09
Cats die. Dogs die. Animals die. Even humans die. It is a natural thing to die. Good for the cat it wasn't ran over by a car or something. Sorry for being frank. But that's that. Happy New Year!


• United States
30 Dec 09
aww--sorry to hear about this cat passing, but at least for awhile it did know a home...and it was a beautiful cat Maybe it's just as well you didn't take that cat in since as Elic indicates that FIP is very contagious and your cat would have gotten sick as well.


• United States
30 Dec 09
I am very happy too that this cat had a home before it passed away. At least it was being taken care of and loved, especially being kept out of the cold outside. It had been getting very chilly at night. Thankfully we didn't take it in, as you mentioned, because I would have been heartbroken if our cat had caught it from this other one. I ended up taking my cat to see our vet just to be sure she was ok. Our vet assured us that she is fine. Thank goodness.

• Garden Grove, California
30 Dec 09
hi koalatbs I have heard of it but do not know much about it except in people it would translate into appenditis that had ruptured and spread infection throught the cats peritinium. misspelled Im sure.

• United States
30 Dec 09
I've never heard of that. Perhaps that's why the kitty was a stray? they couldn't afford to take it to the vet & couldn't bare to watch it get sick? Poor thing, it's in a better place now.