Do you know your guardian angel's name?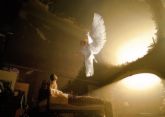 China
January 5, 2010 9:49am CST
Hi guys. I'm wondering if all of us care about in knowing our guardian angel's name? Have you ever wonder the name of our guardian angels who keep watching us since birth? Do you believe in angels? Are you interested in knowing his/her name and the meaning of their names? Anyway I recently found out that my angel's name is St. Barachiel- Archangel of Divine Provide.

5 responses

• Philippines
5 Jan 10
No, I dont know the name. Still I believe that my guargian angel do exist. How come you know yours?

• China
5 Jan 10
Oh. I found a site that helped me in knowing my angel's name and it's meaning. I just typed my birth month,day, and year of birth. Are you interested in knowing his/her name? here's the link... http://www.viloria.com/viloria/adi/guardian.shtml


• China
6 Jan 10

You're welcome. So, hows the feeling that you already know your angel's name and its meaning? I see smile on your face. Am i right? Anyway, thank your for your responses. have a great day. See you later in other discussions.

• United States
5 Jan 10
That's interesting. I believe that there are angels that God charges to everyone to watch over them. I think that is really cool. I went to look my guardian angel up and I saw that since I was born on a Thursday for my birthday. My angel's name is St. Sealtiel who is the Archangel of Worship and Contemplation.

• China
5 Jan 10

It's nice to know you know your angel's name. I'm happy that you are interested in him/her. Did you search for it before replying to my discussion?

I don't know that i was born on Saturday until i searched for my guardian angel's name and i also don't know it is based on "day".

• United States
5 Jan 10
Yeah I had to go search for it. There was this site where it could tell you what angel was assigned to you depending on what day in the week your birthday fell on that year. My birthday fell on a thursday back in 1983.

• China
5 Jan 10

I also searched for it before creating this discussion. I guess we visited the same site. I posted the link under maria, the one who responded next to you. I guess i didn't violate the rule because it's related.

Anyway, thanks for the responses.

• Australia
13 Jan 10
I love the idea of a Guardian Angel watching over me and even as a child I sensed that there was someone other than my parents looking out for me although I could not explain it. I would love to know who my Guardian Angel is if I have one, I wonder if it is someone who has passed over or not. According to the Guardian Angel website my angel's name is St. Raphael Archangel of the Christian's journey to heaven. I don't take a website too seriously but I do wonder who he is...

• United Kingdom
6 Jan 10
I guess I have an angel of sorts! I think that everyone has an angel or more than one angel! I don't know the name of my angel though! I think there are spirit guides and teachers in the spirit realm and this gives me great comfort! I just think we are all on one long journey of learning and growth! Andrew


• Puerto Rico
5 Jan 10
I definitely believe in my guardian angel because she saved my life back on 9/11. So how did you find out your guardian angels name and how can I found out to? I'm really very interested in this. I have heard that you just close your eyes and think of a name the first name that comes to your mine is the name of your guardian angel. I don't believe this I think there is more to it then that. Please let me know how you found out. Thanks!