What should I do about my cat?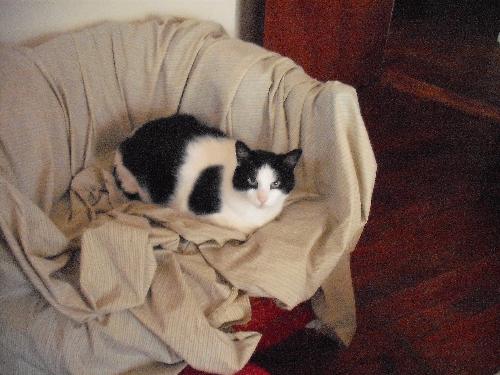 United States
January 5, 2010 12:39pm CST
Bigguy is about 5 years old. He was a ferral cat when I got him about 2 years ago and is still very unapproachable. He seems to have a problem urinating and I've noticed small amounts of blood in my bathtub which I read is a place he would go to try to pee. He goes into his litter box often and does nothing except maybe poop once in awhile. I use clumping litter and there are seldom any urine clumps for me to scoop out. I searched the net for answers and came up with a home remedy....apple cider and water mixure. I tried putting a little bit of it in his food and his water the way they advised to do. He didn't eat the food or drink the water. I tried injecting it into his mouth with a syringe and all he did was trow it up immediately. I tried putting vaseline on his paws and nose but he wiped it off on a blanket instead of licking it off the way a normal cat would do. I'm on Social Security and can't afford the cost of a vet visit and they don't even have a payment plan for Sr Citizens or people on disability. Does anyone have any suggestions as to other home remedies for a cat with this problem?
10 responses


• United States
6 Jan 10
I found so many internet sites with people in the same situation as I am and some of the home remedies did work for them. I'm keeping my fingers crossed.

• United States
5 Jan 10
O my that's not good!

Can you call a vet and just explain what is going on and let them know you don't have any money to bring the kitty in now and I am sure they will tell you something you can do until you can get kitty there. And if not I will check back in a few and see if I can find anything out for you. I have two cats and I would just die. Please I will check back O.k. I am a cat lover!


• United States
6 Jan 10
I called a local vet and they didn't seem really very interested in helping me over the phone. You would think they would have some consideration for my financial situation and my poor cat who by the way seems a bit better today. Maybe the little I did for him helped him. I hope so!

• United States
7 Jan 10
I am sorry to hear that. I wish I could help your kitty in some way. Have you tried second opinions with other vets?

• Australia
6 Jan 10
It is highly likely that he has a kidney or bladder infection. It probably wont get better without antibiotics. Is there more than one vet in your area? You could ring and compare prices and ask about a payment plan. It is not fair for a vet not to offer a payment plan. I knew of a vet here who would take a watch or some other item as security, and when the payment was fully paid, the item was returned. If you have no copperative vet in the area, could you ring the state cat rescue organisation, and ask if they had assistance for people in your situation?

• United States
6 Jan 10
Thanks for the tips but he seems much better today. Hopefully the home remedies worked.


• United States
6 Jan 10
I've taken the vinegar out of his water and he's started to drink again. Maybe it made him thirsty. He's doing somewhat better today thank God.

• Daytona Beach, Florida
7 Jan 10
If you take your cat to bandfield Animal hospital during their shot clenic, they will check out your cat for free and only charge you for any medicine he might need. Blood in the urine could be a sign of something deadly, but you shouldn't be afraid to take your cat to get help. The signs you are discribing could be urnary track infection, kidney or liver failer. all of wich can be fatel for cats. So if you love your animal you'll take it in. I know money is tight. I live off disability, but I don't let that stop me from giving my cats medical care. They get vet check ups, they get medicine, food and litter. I manage and so can you. And I bet you probably get about the same, or slightly less then me.

• Sweden
6 Jan 10
I don´t know if this helps in your case, but I have learned that male cats should not be fed with dried cat food. It could cause urinary problems - block the flow. I used to cook food to my cat - he got full grain rice and fish. He also liked some vegetables and yeast tablets from health store for B vitamins - he loved them.

I really hope you find a solution. Your cat is so beautiful..


• India
6 Jan 10
Hi, in my opinion i strongly recommend you must show your cat to a vet. Because other ways of home treatment cannot be trusted completely without knowing the cause why he is behaving like this. You had to show him to a vet, and tell him exactly what is the situation. Also tell him whatever you had tried to make him normal. Mostly the problem would be with his food consumption and or food poisoning might be aother cause, make sure you didnt gave him any expired food or any kind of food which might cause digestion problems to him. I really doesnt appreciate your step of experimenting with home remedy methods found on internet. Because all those methods cannot be guarenteed to work in every cases. Remember, you are experimenting with the life or health of your dearest pet, and the online article writer had nothing to lose. He might be providing some basic tips to take care of pets in most common situations and symptoms. An expert vet can inspect him and findout what might have gone wrong. You might need to shell out some bucks for a good vet. But i think it doesnt really matter if you love your pet and love to see it healthy and happy like it was before. -Jithin :)

• Philippines
6 Jan 10
Take your cat to the vet, and see if that'll help him.

• United States
6 Jan 10
I have a cat that had this problem. This condition is like kidney stones which cause a blockage and they cant pee. It can become very serious. My cat was put on a special food by Hills Science Diet that actually dissolves the stones. The food is quite expensive but a small bag could do the trick. Then you could buy the dry food that has urinary care in it. Many of the cat food brands make it. You would have to talk to the vet though about getting the hills science diet food.

• United States
6 Jan 10
I hate saying this, but it sounds like your cat either has a UTI (Urinary tract infection) or kidney stones. He really needs to see a vet ASAP. If your regular vet won't accept payments, call around and explain the situation and see if there is one that will work with you. Also call the various animal rescue groups and the humane society. Explain that you took in the feral cat and that you can't afford the vet cost and explain the cat's symptoms. Apple cider and vaseline won't help that situation. In fact the stuff could make it worse. Is he eating and drinking? Is he still reasonably active? What kind of food are you feeding him? I had to change my cat's food because of the fact that the guys were getting urinary tract infections. In fact, I do remember that they had blood in their urine. You might call around to the various farm suppliers and pet stores and see if they have any kind of antibiotic that you could buy over the counter for the cat. He needs help as soon as possible if he is going to be comfortable and survive. I hate being the voice of doom, but I have had to spend close to $600 for UTI's in my cats. They passed blood in their urine, and they also would urinate in strange places rather than in their litter box.