Will you need to shovel or blow dry your driveway today?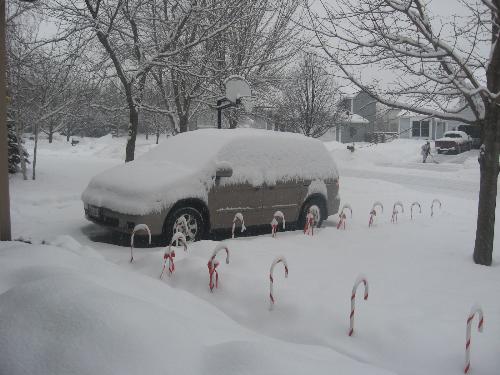 United States
7 responses

• China
7 Jan 10
Hi,ladym33,I can see the snow is really heavy from ur picture.I won't have to shovel or something,bcz the place I live won't snow according to the weather forcast.Good luck and take care,best wish to u and ur family.:)

• United States
7 Jan 10
I won't have to do either of those things, but only because my brother-in-law will stop on his was home from work and plow the driveway for me. I will have to shovel off the deck though. According to the weather man we will be repeating the entire process again tomorrow as we are supposed to be getting another 4 to 6 inches over night.

• United States
8 Jan 10
Let me tell you....at the end of March last year we had a huge snow storm that dropped over 18 inches on snow.... Steve went to Sears and bought a snow blower...I know the price tag on it reads $699, but he got it on clearance, but I don't know how much. He is so proud when he gets to go out and use it. I'm thankful that last nights snow didn't stick to give him a reason to use it! Marsha

• United States
7 Jan 10

Well I think you have a typo there I don't think I will blow dry my drive way.

. Sorry I just had to make a joke about that. I don't have a snow blower either so I will either have to shovel or blow dry my driveway. I might need a bigger blower dryer for that though.

I am just teasing you. I will need to shovel as well.

• United States
7 Jan 10
Here in Minnesota I got a few inches this morning. I've already used the snowblower. Now it's really windy & the snow is starting to drift on the edges of the driveway so I'll be out a few times to shovel the drifts away. Really cold here as well. Right now it's only 4 degrees with a windchill of 14 below zero. HAPPY POSTINGS FROM GRANDPA BOB!!~

• United States
7 Jan 10
The snow blower was out of gas. There was no way to get out and get some more gas for the snow blower. So that left little choice but to shovel the drive way. Thankfully, the snow was not too thick. It was more of a light sort of snow but there was a lot of it, so there was enough. That and it did not rain for hours on end like last time, before dropping below freezing. That is the worst type of snow to deal with, when it is packed with ice.