People trying to tear away a marriage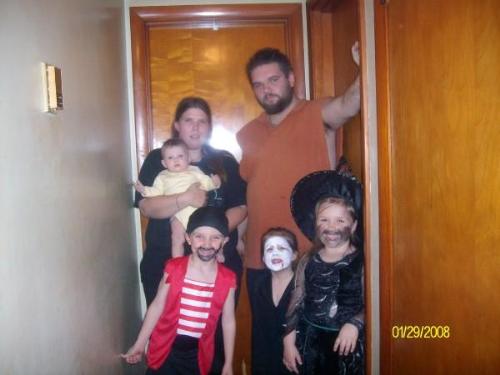 United States
January 7, 2010 9:17pm CST
My husband and I have been together for 10 years. We split up for 8 months years ago and that is how I have a stepson. Now, This girl I thought was one of my good friends is trying to screw all of us over. She told me that he was having an affair with some girl at work. I was led to believe it because her fiance who also worked with my husband told me everything. Well things have been worked out between us. My ex-friend and her fiance have since split up because of all of this and came clean with me saying he told me that because she used his children against him and he didnt want to take the chance of loosing his children. I can see where he is coming from and I forgave him and told him I probably would have done the same thing if put in that situation. Now, this person who used to be my friend is pulling all this crap with my husband and her ex-fiance. She has restraining orders on both of them, a stalking order on my husband and trying to get her ex arrested. Also, with getting her ex arrested would be pointless because in her statement she said my husband was having an affair and it was a lie. (There for that is a crime). Also she had basicly forced her ex to make the same statement, so I believe that would be yet another crime. I just dont know what to do. I mean my husband and I and the children are leaving for Connecticut in 2 weeks to move in with my parents as they are getting older and really need the help around the house. I think that this is being pushed way out of porportion by this female and my husband and his friend thinks it needs to be resolved. I was just wondering on what you all think. Do you think we should just move on and leave it alone, or do you think they should fight it at their court hearing to prove everything is wrong and they are both innocent? Sorry this is so long, I just could really use some opinions.
10 responses

• Philippines
8 Jan 10
Hello there Magrylouyu, I hate people who creates trouble to a peaceful family just like yours. Your friend is a devil in disguise of a human being. Pardon me to say so because based on your story she tried and indid successful in fooling you all, making her own stories and influencing his boyfriend or fiancee to tell lies also to you because of fear to lost his children, and in that way you are made to believe that your husband is doing something stupid behind your back and cleaning her own misdeeds as an effect. You should also do your own move to stop her evil plans, she can always do the same thing to any other families if you won't teach her a lesson. ressort to proper judicial remedies. Her act of destroying the image of your husband affecting your family is not tolerable by law, you can file a claim of damages or a criminal case as well. However just be sure that your husband is indid clean and clear also, he might have been under the seductive power of your ex friend because what's keeping him to remain in silent for quite long especially that you and your whole family are affected? Justice and truth will only be served in the presence of strong determination from anyone to seek its grace and shield. Do it or never.

• United States
8 Jan 10
Thank you for your response. The main reason my husband wants to take it to court (they have a hearing anyways to see if the order will go into effect) is because of this he went 2 weeks without work causing our 4 children to get nothing from us. Then 2 weeks later with still no work gets fired because of it. He went 4 weeks with no money and he would like to sue for lost wages. My whole family has been effected and I have talked to my husband and this girl from work and it's all false. Her ex has told me it was all a lie and he only said that because he didnt want to lose his own children. She has done so much to his ex and he has been trying to do all he can to show the court he is not an unfit parent to his children. He's trying to prove that she is unfit to her child that she signed over gardianship to the father because she became homeless a year ago.

• Philippines
8 Jan 10
Oh that's really terrible. I can see now why your husband and his friend want to pursue this case so much. If I were them I'd do the same thing. Your ex friend is really evil, that's what she is. Just support your husband, and I hope you win this case.

• Philippines
8 Jan 10
If the problems cannot be arranged being a civil person and admit some faults and apologize for what happened. Same as, it had made your family into a disaster and you and your children will be having emotional set backs trigger by emotions that lead to separations of couple. Then taking it in court would be a good step to clean things that was screwed. Also to give back the right respect for those who are innocent victims and family who was destroyed. Before you move on, think first of the possibilities it may cause you emotionally and for your children. If you think changing locations will ease some pains, go on with it. But the case is, your family was morally degraded, what will be the effect on your family is what you must consider first. Do things legally but you gonna need additional expenses for that. IT depends on your views and principles. IF the said problem will inflict a negative outcome to your children, family in the future. I guess there is no wrong if you fight for what you really believe in as well for them to pay all the physical and emotional damages they brought to your family.

• United States
8 Jan 10
Thank you for your response. The only reason we are moving is because my parents are getting up there in age and my mom asked us to move in 3 months ago so we can help out around the house and help keep things in order. If it wasnt for my mom we would still be staying in town until we could afford to live some where else.

• United States
8 Jan 10
Yes, from what you have told us in your post I would definitely just move on and get as far away from this person as possible. Its really not that important that she has a bogus restraining order against her ex or your husband if you two are far away from her. If you wanted to you could file a complaint with the police department over her false accusations, but while that may give you some satisfaction at some point, it also could cause more problems than its worth. For example if she gets in trouble for falsifying a legal document and gets charges pressed against her then you, your husband, or both may have to come back just to testify against her. So really unless its worth it to you both, I would just leave the situation behind and move on with your lives.

• United States
8 Jan 10
However, after reading some other comments, If you do take her to court your husband can sue her for slander and defamation of character, in addition to whatever punishment she may receive for violating the law. Just make sure you can prove it beyond a doubt if you proceed with the court process

• United Kingdom
8 Jan 10
What's up with that? I mean, did her ex tell you why exactly she would spread such malicious rumours?? Sounds like everything is rather complicated. But why not? If you know you can prove they're guilty, then take her for every penny she has. Ha, some of us have great friends eh?

• United States
8 Jan 10
Oh yeah I'm learning who my real friends are for sure. This town I live in now is nothing but lies and rumors. We can prove she is quilty and that is why my husband is hoping to get all he can from her. We lost out on so much. It killed me beacuse it was our youngest daughters FIRST Christmas and I couldnt even buy her a gift! Thank you for your response.

• Singapore
9 Jan 10
She spells trouble... stay away from here by all means. And I believe strongly that your husband is an honest man..

• United States
8 Jan 10
Hello, I am so happy that you both are together now. another thing, if your ex friend bring all the problem up and got your husband in this matter(if this is not serious to appear in court or any paper in police station) then I would leave it alone and move on to my plan. Another thing, if she put restrain order on your husband then you have to do some action, in order to prove to other people and police that your husband is innocent. After everything done, you dont need to listen to anyone... as long as your family is happy and your husband is honest with you.

• Indonesia
8 Jan 10
I am sorry to hear your story. I hate people who like to destroy happy family. Because i think i have happy family, me and my hubby have been together for 8 years. I cannot imagine if i have experience like you. And i am afraid that happen to me. I think If you split up with your husband not because other women so you both still have change to improve your household to be happy family the same way again. Just correct your self and your hubby so. Correct the wrong and improve the love. because marriage is combine two heads became one. If you hard, so your husband must soft, in reverse when your hubby hard (stubborn) so you must soft, be patient and understanding him. The important thing is marriage must be in the trust underlying. Divorce is VERY LAST OPTION. Please consider it again. By joining with parents to develop more compassion of you and it will grow the memories of good times had while dating. Excuse me, from the ages of my hold 8 yo, was able to give you advice you that are marriage 10 years, but only this i can tell my opinion. Hope the best for you.

• Philippines
8 Jan 10
Well, I think you should learn to trust your husband... do not listen to anyone,not even to your friends.. they're just making things more complicated with you and with your husband,.the best thing you should do is to get away from that place, as what you have said you will about to move into your parents place,then that is much better.Good luck and God bless.

• China
8 Jan 10
Oh, it seems that your relationship is in a mess . I am still confused and can not understand. Just wanna to express that you should go and do anything in according with your hearth. Good luck to you !

• Philippines
8 Jan 10
what kind of person would do such a thing.. she should have just minded her own business.. if i knew any better she liked your husband maybe thats why she does those things to you.. i think you should just leave it alone.. you dont have to go through the trouble of going to court with a useless person such as that girl.. she'll get whats coming to her eventually.. just be happy as a family and move on with your life.. best of luck to you..

+_+..swollen minds and spoken lies..
you'll never hear their silent cries..+_+
- hush ^^,