Do you like to have breakfast in your office?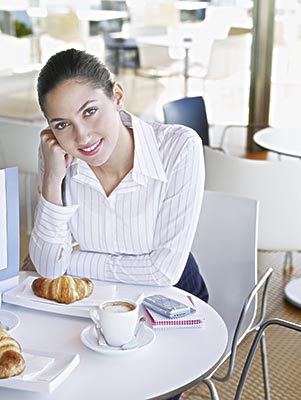 China
January 9, 2010 7:55am CST
Some of my collegues always have breakfast in our offce, and it often lasts half an hour. So every morning I start my work with the smell of food. I don't like that habbits. Office is a place to work, both the smell and the behaviour interrupt the atmosphere of the work. Do you like to have breakfast in office and what do you think about it?
6 responses

• Malaysia
9 Jan 10
I always prefer to have my breakfast in my own home since it's more comfort and convenient for me to eat and drink. I will only have my breakfast in office when i wake-up late and in a rush, since i don't have time to eat at home anymore. Same like you, i don't really like the habit of having breakfast in the office, since i feel the smell of the food, can makes me feel lazy to put my brain to work. So, i still prefer to have breakfast in my home, so i can feel more energetic and concentrated to do my job.

• China
9 Jan 10
Thanks very much for your response, I prefer to have breakfast in my own house too. I like to finish it before I leave home. It makes me feel uncomfortable to eat before many collegues in the office.

• Guangzhou, China
12 Jan 10
I don't like having the breakfast in the office because I think it is weird to have it in a working place. You are supposed to work when you arrive at the office. I think it is better people to have their breakfast at home or in the restaurant. I love China




• China
10 Jan 10
Actually, i like to have breakfast at home, but i hope more sleep, so i always have breakfast in our office, Sometimes i don't have breakfast as a result of traffic jam.:(

• India
3 May 10
I don't prefer to have breakfast in my office. It is a waste of time. I also have to carry my beakfast to office and clean the tiffin box. I prefer to have it at home and come to office with my lunch. I have some friends who take brekfast to office. They have the breakfast in pantry along with other friends who have breakfast at home and end up wasting the their time and their freind's tme.

• India
29 Apr 10
Well we have separate canteen at our office to have food. So we never eat at office place as its just a place for work.

• Philippines
13 Jan 10
Sometimes I have to take my breakfast in my office especially when I am rushing some tasks with a deadline. However in the company I am currently working, we have a huge pantry for food trippers and seekers. It is bad to eat infront of our office tables and mates, I think it is a bad work ethics to do so. If we dont have our office pantry or kitchen, then look for a space available outside but within the job site.