Has anyone heard of/seen Boondock Saints?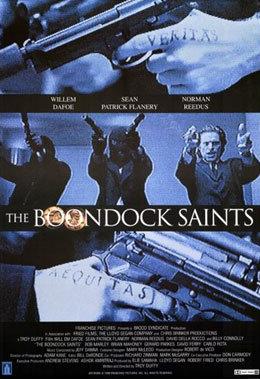 United States
January 10, 2010 1:30pm CST
I just recently saw it. Its got the same vigilante theme as most movies. I liked this most because its more modern. Its about some brothers that somewhat in my opinion work for god. I only saw it because Boondock Saints 2 All Day saints just came out. I just passed this every time I see. But suddenly I noticed how many people say its good. I saw the trailer for the second one and it was definitely a good action movie for 2009. Hey its already new years lol. They put it out right at the end. If anyone hasnt see it, I recommend you watch it(the first boondocks). I searched it on wiki and it said it only made like 250 thousand world wide with a 6 million budget. But it made 5 million in dvd sales. Thats pretty weird, but i think its because it didnt attract much people in the beginning. Then someone got the dvd and said it was good and everyone else started to get. You know it has like a rating 7.9 on imbd. I never even heard about this until last week. But now I think this is one of the best movies I have ever seen and that no one has heard or even watched. oh ya.....watch it!!!!
3 responses

• United States
10 Jan 10
It's one of my top 5 all time favorite movies and of those top five I have three number 1's and a number 2 and number 3....Boondock Saints is one of those three tied for first place. It did horribly in the theaters and because of that All Saints Day was supposed to be straight to DVD but then they took into consideration how well it has done since it's original release and decided to give the sequel a fighting chance in the theaters and it's been playing now for over two months (total, not nationwide, nationwide it's been out for about a month and a half). And the second one was just as incredible as the first.



• United States
10 Jan 10
yea i still cant wait to watch the second one!

• Czech Republic
10 Jan 10
Awesome movie. Maybe it wasn't very popular when it was realeased but it's sure popular now. Haven't seen the sequel yet

• United States
10 Jan 10
We have the movie. Its very good, I too recommend this movie to everyone.