cute baby photo!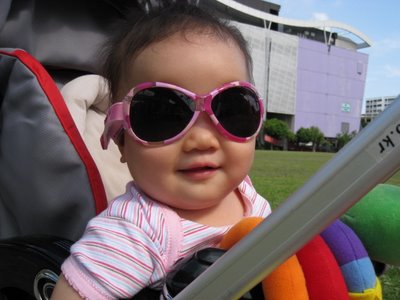 Singapore
January 15, 2010 2:30am CST
One reason why I like posting and responding to discussions in this section is because of the cute baby photo that is in the bottom right corner!don't you just love the expression on that face? and from a photo composition angle, it's taken so well with such a great mix of light and shadow. So here's a photo of my baby girl to share with you, looking some what incognito, and quite cool, if I may say so myself!Hope you like it! Do rate it and comment on the photo section if you'd like.
6 responses

• United States
19 Jan 10
My goodness she's gorgeous. Looks like she has a nice big personality too! Enjoy that little one.

• Singapore
20 Jan 10
yes she's got a real big personality developing!

• Philippines
15 Jan 10
yes, i dont just like it i love it. since i started mylot i always use my son's photo as my avatar. i changed it evry now and then. in fact that avatar is a new one. changed it a few minutes ago. mylot witnessed the growth of my child and i am very happy and proud to share that with mylot. the photo of your child is cute, looks like she is giving you a lot of sunshine with her smiles.

• Puerto Rico
15 Jan 10
How adorable I love the picture. I have adorable pictures too of my granddaughter but I'm really afraid to put them on the internet so I don't. But its a great picture.

• Singapore
15 Jan 10
yup I put up this one cos she's in shades like some celebrity so her identity is still somewhat masked haha.

• Singapore
18 Jan 10
lol =D U are very much into babies huh?? HOw about the baby i'm using as my avatar?? WHich is cuter, compared to the one in this section?? lol =D

I guess your baby gal will be the best out of all, because she's after all, your baby gal.. nOthing beats, your own flesh and blood, and she will always be the most beautiful, cute, baby gal, in your eyes.. hehe



• India
15 Jan 10
very nice to see what a pretty girl