Its a good thing I love him so much!!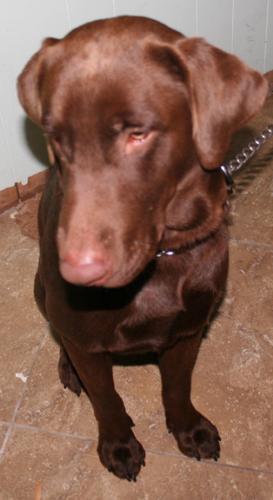 United States
January 17, 2010 10:30pm CST
Well, when they say that dogs are just like kids, I definately agree. I had to make a tray of deserts for a bridal shower that I was attending today. I was asked to bring a desert and thought and thought about what to make. I decided to do a really easy but elegant phyllo dough thing. Its a little bit tricky because if youve ever worked with phyllo, you know that you have to work very quickly as it dries and turns brittle easily. I had to make little phyllo cups which I did by using the top of a glass for a round cut out and then shaped them into mini muffin tins and bake. After they bake, you simply fill. I filled them with mascapone cheese which is an itallian cheese used both in savery and sweet dishes. Its delicious and VERY expensive. I mixed the mascapone with a fresh rasberry puree that I made from scratch, folded in a little sweetned whipped cream and then cut fresh rasberries into small pieces for the top. I ended it with shaved chocolate curls and they were done. I had to make about 6 dozen, so it took me all morning. They were delicious..the crispy phyllo dough with the creamy filling is really yummy. I arranged them on silver trays, set them on my kitchen table and went in to take a shower and dress for the shower. I got ready and came out to my kitchen to grab the trays to put in car...Well, guess what? As I stared in disbelief at empty trays, I'm baffled as to "Where the (explicited) are they? The trays were clean as if never used and as I'm starting to think someone came into my house while I was in the shower, I looked at Brownie who was very sheepishly hiding half under the couch and half out..He never hides..Well it didn't take a rocket scientist to figure out what happened..My dog ate every single one of them!!! I was so flustered that I could not yell at him because if you could have seen the quilty look on his face, you too would have burst out laughing..Like I said, Its a good thing I love him so much..His tummy was sticking out like he ate a bowling ball which made it even funnier....Today i learned two very valuable lessons...Never leave sweets or anything for that matter on kitchen table while in shower and secondly, store bought pastries just dont cut it!! Has your dog ever eaten something not meant for him or her?
2 responses

• United States
18 Jan 10
You made me so hungry describing those little desserts! What did you do instead? Finish the story. I am also wondering if your dog is going to get sick from all that very rich food. It is funny and it is sad.

• United States
18 Jan 10
Brownie is cute!, but my dog has actually eaten a candy bar out of a box I was selling for a fundraiser.

• United States
18 Jan 10
Hi Mark..Thanks, we think he is real cute too. When we rescued him it was that face that got me. Chocolate labs just have the sweetest look about them. Well be grateful it was only one candy bar..it could have been the whole box!! I think for sure that mine would eat each and every one!! Thanks for your post..J