At least Ovie never had a shot on goal

United States
January 19, 2010 9:19pm CST
Theodore was the caps best man on the ice tonight. He's come a long way as a goalie since we beat him up so bad when he was wth colorado. Good to see Knuble, he started his pro career as a wing, too bad they didn't have those muti-year deals way back then. Have a feeling we might not be seeing Ozzie again for awhile. I guess congratulations Sarah, your caps beat our wings.
2 responses

• Canada
20 Jan 10
2 goals, 46 seconds apart. That was what had it in for the wings. Unfortunately for Big Bert, after being a hero for the past few games, he's the goat this time. Too bad for Ozzie too. The current wings are Howard's team. Hope the caps make it all the way! I hope the wings get to no.8 and then they dispose of the hawks.

• United States
20 Jan 10
You don't like the Hawks? which teams would you want to see in the final?

• Canada
20 Jan 10
The hawks eliminating the canucks in the 2nd round last year is still fresh. That's why I don't like them. Of course I want to see the canucks in the finals. With your caps. There's just a little problem of getting through 3 rounds of good teams in the west.

• United States
20 Jan 10
Bert gets a pass from me on this one, due to past performances and his shootout goal the other day..and I felt bad when I saw the look on his face after they scored. Bounce your canucks are who we are hoping to at least tie for points this year. I do like the blackhawks, but I still maintain they aren't ready for the playoff run, I don't think they can take your canucks out quite so easy this year..Ducks are playing well enough again it's time to cross sticks against them and throw a couple of jinxes in their direction. I think this is going to be one of the most interesting ends to a hockey season in a long time.


• United States
20 Jan 10
thanks! I was hoping for a tie and the dreaded shoot out . but Theodore was putting on a clinic! It was good to see Cleary and Ralfarski and Helm in the line up for the Wings. and Zetterberg and Datz on the same line. questions What did Bertuzzi do to get pit in thre sin bin and how did the Caps ,who had three powerplays and no shots on any of them, beat the Wings?I'm in shock!

• United States
20 Jan 10
Big Bert had a hook I do believe..Larry Murphy was talking about how the caps seem to be finding ways to win even when they play not so great.. when they scored the game winner. You know who the caps remind me of a little..the 2007 Wings. Theodore was amazing, he totally kept them in it..damned theodore.

• United States
20 Jan 10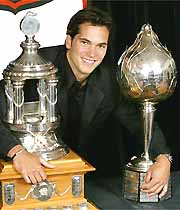 Gorgeous Theodore! Have you seen him without his mask? I agree with Larry, It is like the G-ds want the caps to win some games.

• Canada
20 Jan 10
Everybody seems to be copying the wings. Even the folks on NBC last Sunday were saying the hawks were looking like a young red wings. I know that even the canucks are trying to pattern themselves like the wings. Hard to argue with a winning formula.