Do you support campaigns against cancer

Bulgaria
January 22, 2010 12:32pm CST
Hi, friends! I'm interested in something. Have you ever supported "against cancer" campaign? And if the answer is yes, how you supported it? You buy something or you send sms? Maybe something else . . . Share your experience with us! Thank you!
7 responses

• United States
23 Jan 10
Yes, I do support the fight against cancer. I donate both money and time to the American Cancer Society and Relay for Life. I "buy pink". I give to children's cancer centers. This dreaded disease has hit far too close to home for me. Fighting cancer is a cause that is very personal to me. There have been many in my family who have fought and lost the battle with various forms of cancer. The most recent having been my mother this past June. I would not doubt that there is a cure that our government and pharmacies do not want us to know about. I pray that is not the case. That would be extremely cruel to all the families who have lost loved ones to cancer. If the powers that be are holding out on the cure, I am sure there is a special place in hell for them.

• United States
24 Jan 10
Thank you, Stand87. Support does not have to come in the form of money. It is not important that you give a lot. It only matters that you help when and how you can. If you don't have a lot of money (and who among us does these days?), there is always prayer. I find that it works wonders, too! If you know someone fighting cancer, reach out to them. Let them know you care. Listen to them. Most of all, let them be who they are and don't treat them like a victim.

• Latvia
23 Jan 10
Heelllo, my mate! Of course. We must fight with the cancer. I really like those commercials, which tells people to stop smoking and stop unhealthy lifestyle. I really want to suggest commercial producers to put on those commercials more pain, social fear and so. People must understand that this isn't game, there's almost no way out of this terrible illness. Thank you for great discussion!

• South Africa
22 Jan 10
Yes. Me and my hubby normally buy the ribbon. But last year we decided to shave our heads. That was fun. At least it is growing very fast. We are considering doing it again, whenever the hair is fully grown again. It is nice to know that your hair can be used for a wig, for cancer patients. You should really try it.

• United States
24 Jan 10
I think that is AMAZING that you would do that! The thought that you would put aside concerns of for own appearance to help someone else feel better about theirs is remarkable. It warms my heart to the point of making me cry. Do they have a certain length they need the donated hair to be? Since I have kept mine cut off rather short for years now, there usually just a couple of inches to cut off at one time.

• United States
26 Apr 10
My dad was diagnosed with terminal cancer when I was 9. I'm now 26 and he still battles it. We're happy he's still around. Locally we have a yearly even called "Relay for Life" where companies around here get together and have teams run for 24 hours to raise money. Also there are booths with carnival games and things to buy. At nightfall they have a ceremony where they light candles for those we have lost to the battle and they read off their names. The company my dad worked for started participating to support him and the community. I have done everything from walk/run in the event, set up for the event, camp out at the event, work the booths, and shop and play games. It's a lot of fun and it feels good helping. Also it's nice to have time to do something with my dad and hopefully make him proud.

• Chile
25 Jan 10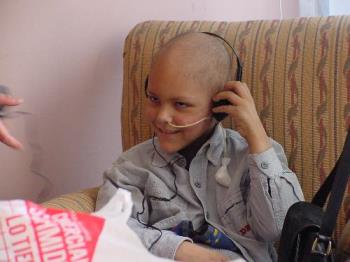 I don´t have too much money, but I give all I can to help the children with cancer. I have had many people in my family die from cancer (my husband too). But the worst was when my grandson got cancer. He was a brave little soul and in the nine months he lived after he was diagnosed with a specilly terrible type of brain cancer he taught us many things. But we also learned that not every child with cancer is surrounded with love as out Tomás was. So we try to help with that too. My eldest grandaughter (Tomás´sister) gathers secondhand toys and books every Christmas and cleans them and wraps it in festive paper and takes it to the hospitals where there are children with cancer. Most of them won´t have toys either. I share this picture with you, mylotters, and after almost 10 years I start to cry again. Anything we can do to help is worth it.

• United States
25 Jan 10
I try to donate when I can because I have had a lot of family members that have been either victims or survivors of cancer. The biggest thing that I donate to when it comes to cancer is St. Jude's Children's Research Hospital. That is a place and a foundation that is especially near and dear to my heart because my younger cousin was the first person that I've ever known that had a winning battle with cancer and if it wasn't for them, I don't know if she would be with us today.