Okay, I screwed up that one! Why do you own a cat? LOL

United States
January 25, 2010 2:57am CST
Okay, brain fart. I thought I was in dogs... I'm sitting here laughing so hard at myself I'm crying!!! Why do you own a cat? What kind are they? I have four cats, three Siamese and a Mainecoon cat. I've got them not only for company but also for laughs and mice control. Now I'll post the dog question in dogs...or should I post the cat question in dogs since I already posted dogs in cats? Oh well, so much for keeping my brain active when I get real old...I'll just sit in the corner and flash everyone as they go by! LOL, that's while I am drooling down my bib because I ain't got no teeth to hold both the drool and my tongue in my mouth.
9 responses

• United States
22 Feb 10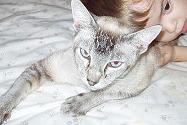 I don't own a cat now, but when I did it was for the company. All but one of my cats have been mixed breeds (AKA mutts). My last cat was a cousin to the Siamese...a Colorpoint Shorthair. He was a real cuddle bug. One of the sweetest cats that I ever had and I'm not just saying that because he was my cat. LOL As for the screw up, I wouldn't worry too much about it. Mistakes are bound to happen on here (or anywhere for that matter). I should know, I've made plenty of them.

LOL javascript:__doPostBack('ctl00$cphMainContent$lbStart','') Happy mylotting!

• United States
22 Feb 10
See what I mean? I did
not
mean to put that javascript thingy in my response. Yet, there it is!

LOL

•
10 Feb 10
We have one big black Tom-cat. He was next door's grandchild's cat's kitten. Try saying that fast! He was chosen by my then 6 year old who had just had a disappointment when the kitten we found roaming in the streets was claimed by his owners . She was offered any of the toms and she chose the only black one. Our cat has a big black dot on one eye which the vet thought was probably from an eye infection but it makes him quite easy to recognize. He also has one huge claw after he got one torn out and it regrew. I love cats, they are just so peaceful and I like their independence.

• United States
27 Jan 10
I have a gray, white, and black cat. She is 14 years old. I got her in the fourth grade. A girl in my class was having a Halloween party and they had free cats. My Dad was allergic to cats so I was never allowed to have one. When my Dad came to pick my friend and I up from the party, we took a cat. We hid it in my jacket and made meowing noises when it would meow. When we got home we let it in the kitchen and my Dad said...you girls have a cat?...He was going to make us give it back, but since I get whatever I want, I got to keep her! My Dad is no longer allergic to her either!

• United States
26 Jan 10
My cat is actually just a "non-breed" cat. She looks exactly like a marbled-bengal cat though. her markings are spectacular. such a beautiful cat. im actual not "really" a cat-person. I prefer dogs. I own a cat for this reason: I went the the shelter & there were a bunch of kittens in there that were found in a box in the pouring down rain. Someone left them there. The people said had they not been found they would have all drown in the box. I have a soft spot for animals; especially mistreated animals. Adopted her. Fell in love with her. Now, she's my spoiled rotten brat. Means the world to me. LOL So, I own a cat because there are mean people in this world who mistreat animals.

• Latvia
26 Jan 10
I just wanted one.. and since my mother allowed it back when I was a child.. well, yeah, I still have it. I actually got it when I was around 11 or 12 and now I'm 22 so I could say that I have had it for almost half of my life. :) I'm not sure what you you expect me to say about its type. Its just a regular cute little white and black cat. As for mixing up things.. don't worry about it. That happens to everyone of us every once in a while. :)

• United States
25 Jan 10
Hmm! now I'm confused Loverbear I swear this says CATS on the discussion and I just answered your other post and I think it said DOGS...ARRGHH!! So am I crazy here? Have I been posting and writing in the CAts discussion too long?? Anyway I have cats too because I dearly love them! They are my babies! I did have three but one of my calico's passed onto the Rainbow Bridge about a year ago, so now I'm down to two cats, My black Cat Screamer that you know, and my other calico cat Scodie...they keep me really super busy taking care of them; now go wipe the drool off of your bib ok? LOLOLOL!!!!!




• Daytona Beach, Florida
25 Jan 10
Cats are normally calm creatures that don't require a whole lot of care. They are usually more easy going then dogs, and enjoy the slightest bit of attention. I have two cats because of the above reasons, and that I'm a cat person by nature. I love cats, and find them easy to take care of. And, a simple cuddle does wonders. I like to lie down at any time of the day, Knowing that Precious will usually join me and simply purr happy that I'm with him. And, Chininia is simply content to have a lap to curl up in. So that's why I love them so much.


• Hartford, Connecticut
25 Jan 10
I own 14 cats and they are all mutts or are mutts just dogs.. well maybe you should post this in the dogs.. :0) I used to have a Siamese- she was awesome and still one of my favorite cats that I have had. She had attitude and I loved it.. the dogs... Not so much. The other cats.. so much either.. SHE RULED THE HOUSE. It was so funny, watching her interact with the others.. she was a great mother.. very loving- the best mother I ever had. She even talked her self into a hysterical pregnancy to nurse other kittens that were in the house. By the time she started producing milk they were almost 4 months old and she would lay down all over the house and nursed these kittens til they were 6 months old and just about as big as her! She terrified my little collie mix because she would sit on a box in the hallway that led to the bathroom... whenever I went (to the bathroom) my dogs of course would follow me.. well, TK- would stand at the end of the hall and cry because she couldn't walk pass the box without Soleil swatting her. I would coax her each time and of course each time she would get hit. lol My Poor T.K. Well Soleil would even hold down the big dogs head and "groom" him. He didn't move! She would have one paw on each side of his face.. and lick him until she was satisfied he was clean. If he moved he got swatted too. The funny part was as we got more cats.. she would control them all.. she usually didn't want much to do with them. But if we were all resting together she would "grab" the nearest cat and do what she did to Ka'vik. she would hold their head down.. and this was funny. the recipient cat would be all wincing with ears back the whole time because they knew what was coming.... I'm laughing just thinking about it, .. she would hold them and lick them sometimes for a good ten minutes.. and then when SHE was finished.. she would swat the poor cat in the head and they would take off running. Always, she could never just clean them and then ignore them.. she always had to send them on their way with a swat! They all KNEW she was the QUEEN! I even had a few arguments with her myself.. :-)