I want to get a new tattoo.Please help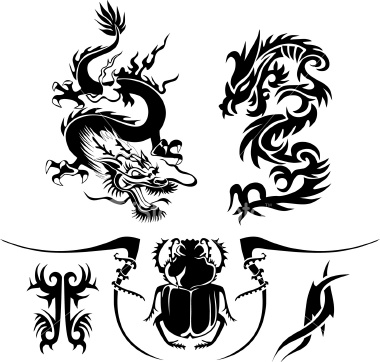 India
January 26, 2010 10:31pm CST
I decided i will get a new tattoo for my birthday this February.I have finally convinced my family into letting me get one.however i have confused after looking at a lot of tattoos.I wanted to get something radical,preferably in black and grey.Colored tattoo will also do.Can you guys and gals suggest me some innovative tattoo ideas,Be serious guys.Once i do it i am inked for life.Help me please
4 responses

• Philippines
27 Jan 10
I have a friend that suggest ink of computer printer. But I suggest before you do it think 100 times it will reflect it when you are applying for a job. Ink of computer will be the best & eagle tattoo. Any how it's your choice to make.

• India
27 Jan 10
I would get it on my arm.upper side.I dont think it should hamper my job eligibility.Tiger is a common one again. What do you mean by ink of a computer?

• India
27 Jan 10
Oh!I get it.But do you thunk that completely safe to use?Please confirm


• United States
27 Jan 10
i know it can be hard to choose a tattoo especially when your thinking that you will be mark forever to you got to make the right choice in choosing the best and appropriate tattoo for your body.i personally don't like very large tattoo that taken up over someone skin.but it would be nice to get a panda,spider or a bird..something kinda like tweety bird..I think that a snake also looks great on men but i am skeptic about what i put on my body...i go for the more simpler not extreme stuff...something simple that goes with me or my personality...but i personally don't think anyone here in mylot can choose a tattoo for you...it's really your decisions.

• India
27 Jan 10
I dont want anyone to chose my tattoos .I will do that.I ma not that lazy you know.I just want some suggestion.Thats all. Panda and snakes are good ideas though.But again snakes are common

• United States
27 Jan 10
well i guess everything is common around here...what about stars,a vine, monkey, rosemary,paws like from a dog or cat.i can't really think of any good suitable ones you would be interesting in.

• India
27 Jan 10
Stars are interesting. How should i get a vine?Does that even make sense. By the way thanks for your ideas.Those are really good.



• India
27 Jan 10
A lizard!! Are you serious??? You mean a cute lizard right.... NO..NO.. I am terrified about lizards..I cant do it

• United States
27 Jan 10
If you're going to get a tattoo here is my advice. One, get something that is important and means something to you. It will be on you for the rest of your life unless you are going to spend more money to have it removed. I waited a few years before I finally found something I truly wanted as a tattoo, even though I knew around high school I wanted one. Two, don't get anything out of the books at the shop. It's tacky and as they are in the books, many people have come in and gotten that very tattoo. So find someone to design what you want unless you are going to take an image from an already established image. Even then you should have an artist redo the image a bit to make it more ready to transfer well as a tattoo (if you don't know any artists, most tattoo artists will do this as part of their service).

• India
27 Jan 10
Can you give me any specific ideas.I would like to have a japanese or a tribal type.