Long live woman power...Nari sakthi ki jai...........!!!!!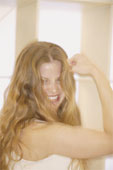 India
January 28, 2010 4:52am CST
Women need more sleep than men: Recent studies by Professor Jim Horne, director of the Sleep Research Centre at Loughborough University in UK has shown that women need to sleep more than men — around 20 minutes of more sleep on an average owing to their busy and multi-tasking brain. Pointing out that one of the major functions of sleep is to allow the brain to recover and repair itself, Horne said, "During deep sleep, the cortex — part of the brain responsible for thought memory, language and so on — disengages from the senses and goes into recovery mode. The more a person uses his brain during the day, the more sleep he needs at night to recover, Horne said adding, "Women tend to multi-task — they do lots at once and are flexible — and so they use more of their actual brain than men do. Because of that, their sleep need is greater."...I am not joking/boasting friends....Here is the link. News From: http://www.Time2timeNews.com
8 responses

• Pakistan
28 Jan 10
Hi Rose nice discussion by Nari Shakti group. well, after watching drams at star TV and sony, i mist say that not only 20 mins, they should sleep atleast 1 hour more than males, the way their mind multi task is surprising, reaserch of Professor Horne, might be about Western women. Joke aside, proper and peaceful sleep is really necessary to refresh u and make u ready for Next day, and its importance for ur facial beauty as well Regards Zahid

• India
28 Jan 10
Cupie How many time have I told you to stop watching those stupid dramas on star TV and Sony......gggrrrr

they never give a true picture of Indian women and Please dont think that all women are like that..They just walk around with too much make up and are over dressed and their attitude is so repulsive....eeekkk And why do you say that only western women multitask and use their brains.....You mean all other women are dumb?/really cupie you have got some cheek to talk to Nari sakthi Like this...... Ah yes like all men you expect women to sleep well and wake up refreshed so that you can oogle their beauty and take advantage of their brains too while you men laze around...!!!!



• Delhi, India
29 Jan 10
Hi Rose! You have quoted a study, which will help you and others to get firm grounds/reasons for going for more sleep.

. I do hope that study would have been done with an honest intent and the findings of the study would have some truth in it. It is undoubtedly true that women indulge in multi-tasking and in many homes they perform more tasks than their counter-parts, therefore, if they require more sleep, I see nothing wrong in it. Hats off to women, who run the show (read home. I understand sound sleep is necessary to recharge our batteries, otherwise, we just cannot survive. I believe that you are spending more time in sleeping after reading this study report.

Keep enjoying! Keep smiling! Deepak

• India
29 Jan 10
Yes deepak, women who used to avoid sleep for their home chores will now give more preference to sleep. That does not mean they will not do their tasks, after all women are multi-tasking bodies. Microsoft used their characteristics in making windows I guess lol


• India
1 Feb 10
Hi Dpk..I have given the link to the study so that all men will read it ,and appreciate is and see to it that their partners get the full 8 hours sleep as recommended in the study so that they can later derive maximum benefit from the 16 hours of waking period by encouraging their brain drain and multitasking.......he..he....


• Israel
28 Jan 10
Ha Ha Ha........I agree with you Rose.......these men just don't let women sleep, no matter what may be their reasons during the day and during the night.

.... and then they say men are more intelligent than women. I fully blame men for brain damage of poor women. So it is high time Nari shakti starts some action........

• India
28 Jan 10
At last the cat is out of the bag.!!!..Its now clear that women are more superior as far as brains are concerned and men shamefully take advantage of women and drain the brains of their life partners to gain their ways.... And to add salt to injury they never let their wives sleep for 20 minutes longer too because they want their partner up and about to cater to all their needs when they wake up.......Oh these men...!!!



• Mangalore, India
30 Jan 10
Hi Roseo, I have always felt it LOL, that we do a lot more and thats why we need more sleep.Now it has been proved


Honestly, women definitely do much more during the course of the day and one gets physically and mentally exhausted at the end of the day, so no wonder that one needs more sleep - thanks for the link Roseo- have a great weekend


• India
1 Feb 10
Hi Kiran...Its not that we sleep to rest our tired bones /brains...but as Dpk has rightly said,sleep is the time set aside to recharge our batteries.....so that we can work at optimum level during the rest of the waking period..... Nari Sakthi ki jai ho!!



• India
3 Feb 10
Hi Rose dear, So you are going to provide some more time to sleep

. Thank you dear, but when these men realize this thing. According to them an ideal wife should be wake them up with a cup of coffee/tea in hand. So it may take time to change their perception or may not be changed for ever.

Thank you very much for providing the information.


• India
3 Feb 10
Hi sree.....Yes most males will find it hard to digest this information.....We women can only wait and dream of a time when our better halfs will be gentlemanly enough to let us catch the 20 minutes extra sleeping time ,while they utilise this time to make the morning bed coffee/tea......


And who knows our dear Dpk and cupie may set the example and prompt other men too to follow suit......


• India
28 Jan 10
I believe you rose, and I accept. I am willing to sleep more, and I can sleep more. LOL. I dont have any issues about sleeping normally. :) Touch wood. :) There are many people who do. I do occassionally stay up in nights when I have a lot of work. :) But when I am very upset about somethings, then I do have problems. But it is not a persistent problem.

• India
29 Jan 10
Even I am a very good sleeper lol

I can sleep the whole day, just kidding, in fact I cannot sleep more than 8 hours in one day. And I complete my 8 hours at night itself. Some women tend to sleep in the afternoon, which according to me is not healthy, as it leads to weight gain. So, I avoid sleeping in afternoon. Also, when I am upset, I sleep faster lol As the more I stay awake the more I will brood, so better to lie down, close eyes and drift away from all the sorrows!!


• India
30 Jan 10
Hi Little fairy....Being able to sleep peacefully for 8 hours is not an easy task,and I know many who suffer from sleeplessness and cannot have their 100 winks without the support of sleeping pills......Of course sleeping less when circumstances demand it is essential,but on normal days,8 hours sleep is a must.....

• Philippines
29 Jan 10
two thumbs up for all the women in the world particularly mothers. i have a discussion about how i am so hats down for all the mothers around the world. so i guess seems they are tired mostly they really need to get a complete rest every night. but of course there are women who works at night too so that would be another problem. it is still a great sleep if you sleep at night rather than sleeping at day. again i will say hats down to all the women particularly the mothers around the world.

• India
29 Jan 10
Yes mothers sacrifice the most for their children and also for their respective husbands of course. They do everything possible to ensure complete comfort for their child, so that they don't suffer. They are even ready to sacrifice their lives, so sleep is nothing for them. Cheers to all Mothers of World!!!


• India
1 Feb 10
Hello you two...I am just basking in the glory of motherhood that both of you have showered on mothers like me in general......Believe me its a full time task,but very often people tend to take it for granted and forget to appreciate the dedication of mothers....But motherhood gives a new thrust , a new vision to women in general and often helps to open new doors of ability ,strength,and determination,that had so far remained latent or unexplored.......Thanks dears for the appreciation....



• India
29 Jan 10
Yes rose, even I have read a similar news in one of the local magazines. The article said that according to a certain survey done, women who sleep only 5-6 hours tend to gain more weight than women who sleep 8 hours. So, this is another reason for women to sleep at least 8 hours in a day, so that they don't gain weight so fast. Of course, it mostly applies to mothers who just gave birth and middle aged women. C'mon women lets sleep more and be Healthy!! Cheers!

Bye


• India
30 Jan 10
Hello Pupupd I see you have been busy going through all the responses and expressing your opinion...Its sweet of you..How come you are not yet on my friend's list? Well Its news to me that women who sleep less tend to gain weight...But I guess you are correct because I always get my 8 hours of beauty sleep and I amnot fat...he..he...So I accept your theory at face value....