Doubts regarding Taekwondo..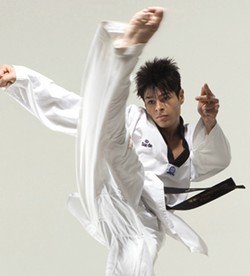 Israel
January 30, 2010 5:27pm CST
..or, better said, regarding the uneasiness I feel when I'm exercising with other people, especially if they're female and around my age. I'm talking about Taekwondo here because I'd like to try it out, but I'm scared I could have the same problems I experienced when taking Karate lessons.. I felt judged and overawed (I'm pretty shy- though getting better, luckily) and decided to quit after a year or so. I tried to ask the teacher if I could be in the same "class" as the younger students, but he said I'm a bit too old (I'm twenty).. Advices, anyone?
2 responses

• United States
31 Jan 10
Have you asked the opinion of other instructors in your area to see if that is how they would deal with this issue if you were their student? Have you asked if there are other practices that might have similar benefits but are easier for beginners and might be more suitable for you? I do not think I would continue in any group where I felt uneasy. And I do not think any respectable teacher of any art or sport would want a student to do so either. My advice is to get a second opinion, preferably from someone who is not best buddies with your current instructor. And do let us all know how it turns out :-)

• Israel
31 Jan 10
Mmmh, so I should ask other instructors? It could be a good idea.. :) What do you think about telling the Taekwondo teacher about my "problem"? Would it be bad?

• United States
31 Jan 10
Of course it would not be bad. I thought you had already done so! But I would not view this as "your problem" but rather a concern you have, which may very well be a valid concern. I sense that you do not want to inconvenience the instructor, but teachers are not necessarily mind readers, so things like this, which are perfectly normal and natural need to be articulated. Then, if you do not get a resolution after confiding this to your present instructor, THEN by all means get a second opinion. Good luck! PS: I repeat: Please DO NOT go in thinking that you don't deserve the instructors time. You do! Also, please do not feel you have to be just like everyone else in the class. Being different is what makes us human. If we were all the same, like cookies cut out with the same cookie cutter, there would be no innovation and civilization would grind to a halt.

• Israel
1 Feb 10
Such beautiful words you wrote here. Thank you :) I didn't tell the instructor my concerns because he was going to his lesson and I had to go home.. but next time I'll try to explain my problem, hoping he'll be understanding (my Karate teacher was not; he made students cry all the time).


• Japan
31 Jan 10
Hi Jargoness! If they criticize your moves, you should do it better. Don't be shy, this kind of sport has always a room for improvement. If you really felt being judged, then it's a challenge for you to improve yourself and show what you got. Its a matter of confidence. There is no young or old in contact sports. Happy mylotting!

• Israel
1 Feb 10
It's that it really hurts when I feel judged.. :( therefore my confidence gets quite low. I usually don't have this kind of problem with males (of any age), though.. I feel more comfortable with them. Why do girls have to be this difficult? D:

• Philippines
28 Jun 11
but in the field of Tae Kwon Do, it has an expiration, meaning, it is not better if you're getting old... because older people cannot jump that easily.... any field of Martial Arts that 101 percent purely hands is prefer to be an arsenal, there are no expiration's for it.... it's a lifetime achievement....