How would you bring myloter to a new interest?

Chile
January 31, 2010 9:38am CST
Hi friends, As I have stated many times that I´m a witch (being 64 is enough presentation) one of my friends suggested that I started a coven. Another friend wanted to know whether sorcerers were welcome. No self respecting witch would leave anyone behind because od genre reasons. Discrimination and witchcraft don´t go together. How would you want this new site to be? What kind of discussions do you want to share here? The only thing I would not like is something that would hurt someone. I believe true witch power implies learning to get along with people that don´t have the same beliefs we do. Each human being is unique, after all. Welcome and plesae share!

7 responses

• Philippines
31 Jan 10
Actually I can't think of something to share as of this moment but I just want to congratulate you in making this new interest.

For starters I do believe in witches and yes I agree that discrimination and witches don't go together because people always discriminates the witch

I guess we can discuss here what does witches do aside from casting curses and spells or what do they do when they don't do those things they usually do


• Chile
31 Jan 10
The witches should not discriminate either. They should know better as the have more talents than the common people. I don´t think curses are the way of witches. Those are inventions. Spells yes, curses no.

• United States
31 Jan 10
I have learned something about u i didn't know, U ARE A WITCH?? I didn't know that.

• Chile
31 Jan 10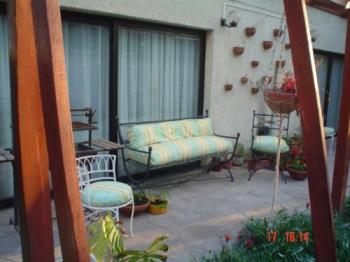 Just white magic, Jo. I´m afraid I haven´t learned the other nor have the interest to do so. But when my grandson peed his bed, I put stars pasted in the ceiling of his room and said the stars would wake him up so he could go to the bathroom in the middle of the night. The stars DID wake him up. Isn´t that magic? I think all kinds of talents could be called witchcraft. You should see the fefore and after of the new terrace covers I sew! Miracle? Witchcraft? Who knows. I am teaching my grandchildren to use their talents to do good things. Many talented people in History were called witches out of envy. I will not compare myself to Galileo, but changing the terrace from rags to riches with little money was a piece of art. Hug

• Chile
31 Jan 10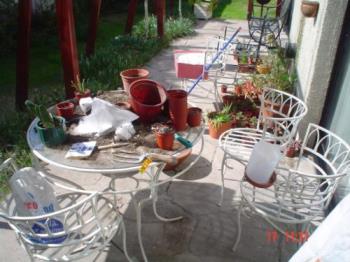 This in one of the previous works to to the terrace makeover


• United States
31 Jan 10
i KNEW u WERE TEASING BUT DON'T REALLY LIKE U REFERRING TO YOURSELF AS A WITCH. i KNOW BETTER BUT SOME PEOPLE MAY BELIEVE U ARE, LOL. There use to be another woman that referred to herself as one & i really yhink she was, lol. I deleted her a long time ago. I was trying to think of her user name but haven't been able to. It may come to me again it may not.



• Spain
1 Feb 10
Hello, Marguicha. What a great idea for a new interest. Holly sent me over here, and I'm so glad she did. Can we have vodka in the coven, please? My white magic won't work without regular supplies of vodka. And if we're going to dance naked in the woods, can we please wait until the weather gets a bit warmer? Apart from that, I'll go along with the rest of the witches. Friends of ours have just gone back to England, and the two husbands have made lots of jokes about us being witches. The other day, when our neighbour came in for a chat, they said, 'All you need now is a cauldron, and you three could appear in 'Macbeth.' All this started when I made a pot of soup from some left over vegetables. My friend's husband said we must both be witches, as we always had a cauldron of soup on the stove, even in summer. Now I can tell him I really AM in a coven.


• Spain
1 Feb 10
Hello, Leif. I love conjugating, especially if I've had plenty of vodka beforehand, as it removes all the inhibitions. Come into the coven and give my oranges a magical squeeze, you naughty boy. That's after we've self-cleaned ourselves, of course. How big is your loofah, by the way?


• Spain
1 Feb 10
Hello, Leif. My, that's a big one, isn't it? Didn't realise what I was letting myself in for there.


• Chile
1 Feb 10
I think that this coven can´t impose just one drink. As for myself, I feel better with a chilean Carmenere. As for the cauldron of soup, it´s wonderful, specially if you are in Winter. I am burning in the heat of Summer here, but as I can´t be away from my cauldron, I make spanish gazpacho ( check it at the web when the sun decides to come out). Many of us, witches, love to cook. I suppose it´s the cauldron thingy.



• Shingle Springs, California
1 Feb 10
Hi - Holly directed me over here. And I have no idea what I would want to add, but I would love to find out what happens here!

• Shingle Springs, California
1 Feb 10
and then I saw your friend request lol Thanks for asking me!

• Chile
1 Feb 10
I know you are a nice adition to any discusion, dawnald. That´s why I wanted to see what you were posting. As for this site, I suppose it will be whatever comes out of what everyone wants to say. I already know a lot more about what a coven is. I thought that we used the word looselly in Spanish but it seems that there was a reason: originally it was just a gathering. Up to now, it´s a gathering of nice people. If you put in your witches cauldron nice and intelligent people, I.m sure we will have a tasty soup. Take care.

• Spain
1 Feb 10
A self-cleaning coven! Leif, you're priceless.

Does that mean we all have to strip off and soap each other under the shower? When can we start?

Somebody pass me the loofah.



• Chile
31 Jan 10
Yup! The title gives a wide scope to imagination. It is a wonderful place for a blue bunny to write. You are very welcome!

• Spain
1 Feb 10
Marguicha, do you happen to have a spell that calls for sacrificing a blue rabbit at sunset? If not, can you come up with one?

• Spain
1 Feb 10
Hello, Leif. Just winding the blue bunny up. You're the king of the sacrifices around here.


• China
1 Feb 10
Well i cann't agree with you any more that mylot is not a place to hurt anyone instead it should be a place you share all you happiness, worries, life details, interesting topics . I'm glad to come here everyday . I'm interested most of the new topics which will enlarge my version and wisdom my thinking . I don't use English in my daily work now so here is my only place to keep it . It's important to me too. Good luck.

• Chile
1 Feb 10
Welcome to this gathering of nations, grace. Maybe you could make a discussion here enlightening us about some of your old costumes in China. We westerners are very ignorant about that. Scarcely we learn about some of China´s exports that we use. My natine language isn´t English either, but we try to do as well as we can.


• Philippines
1 Feb 10
Hello, Marguicha! If you're truly a witch, which you say you are, then I would like to say that you're the sweetest witch in the world. I agree with you. Hurting others is the lowest way of elevating one's self. OUr actions should always be guided by this question: do they hurt others? And yes, when we are able to listen and accept people's differences this forum will become a much nicer place, don't you think? As fellow Mylotters, I think we need to learn to appreciate each other and support each other more for the good of the site, amen.

• Chile
1 Feb 10
Thanks for the compliment, cutie! Have I told you that I love your avatar?

It is SO happy, so much like your statements here. Up to now, it seems that the best witches of this site are comming to my coven. This thing about searching the web with the freerice toolbar (5 searches means 2500 grains of rice) has meant a lot of new knowledge. Look what the wikipedia says about covens. Ilike it. "The word was originally a late medieval Scots word (circa 1500) meaning a gathering of any kind, according to the Oxford English Dictionary. It derives from the Latin root word convenire meaning to come together or to gather, which also gave rise to the English word convene. The first recorded use of it being applied to witches comes much later, from 1662 in the witch-trial of Isobel Gowdie, which describes a coven of 13 members." Would this be a gathering of nice people?

Take care!