Empty Mind is a Devil's Workshop

Bangalore, India
11 responses

• Delhi, India
3 Feb 10
Hi Chaitra!

You are very right that an empty mind is devil's workshop. It is, therefore, I try to remain occupied most of the times. I do not wish to sit idle. If I have the computer/mobile, I could go on-line chat with my friends and can send mails/IMs/messages etc. Else, mylot is always there to participate in some interesting discussions. Otherwise, I remain busy in some house hold jobs, which are essential to perform. Secondly, I prefer to read something, if I am sitting idle and I would read anything from a Newspaper to a Novel. If that is not possible, I do a bit of gardening to keep myself occupied. Another option is to talk to someone on telephone, with whom I have not spoken for many days. I do not mind making calls, I mean initiating calls myself. If you ask me to sit 'idle' in a room, it would be like a punishment for me………lol! Very good post!

• Bangalore, India
4 Feb 10
Hi Deepak!! you have come up with very nice ideas to be busy.. I too love gardening but unfortunately no place of my own because I stay in a rented house.. Hope I too get the place soon.. I know you are kind of a busy person LOl.. Making also is a good way so that our friendship will strengthened by keeping regular contacts with friends.. Thanks for sharing..

• India
2 Feb 10
Hi Chaitra, Happy to see you in board after a long time with your own topic.


Actually it is saying that an idle man's brain will be devil's workshop. A person who doesn't have something particularly to do himself may be tempted to occupy himself with wrong doing. It may be right because idleness means the person have not any particular goal. But for us, we are always busy with some work and there is no time to sit idle. If there is leisure time in office then that time is devoted for mylotting (lol) and at home there is hardly get any leisure time.


• Bangalore, India
2 Feb 10
Hi Sree.. Since I was busy from long time I dint start any discussions.. today I got some time so thought instead of making my mind devil's workshop thought to start this discussion LOL.. yes in office I too do the same.. but at home I will spend it on reading news papers and magazines..

• India
4 Feb 10
Hi Chaitrra,I think you have enough free time at home. Now enjoy the free time dear by reading some good books and magazines. When kids are at home then you won't get free time. Yesterday I was teaching my elder son and younger (who yet to start his study) wanted to learn many things and brought a book and asked me to teach him. I was concentrating on elder one as his class test is going on and you know what the younger did, by realizing the fact I am not listening him he thrown the book in my hand then give his book to me.



• Bangalore, India
4 Feb 10
yes sree you are right.. so I am utilizing my free time more on reading and studying new things so later when I get a kid I will become busy.. Thats good your younger son is having interest to learn.. but when the elder on has tests then he needs more concentration but you have to handle in such a way that were both are satisfied that you are spending them more time..

• India
2 Feb 10
Hi chaitra You are correct. Empty mind is indeed a devil's workshop only as I have experienced it several times. If I am not busy and keep myself occupied with some work or the other, my mind used to recollect the old memories both +ve and -ve thoughts and because of that my mood will get disturbed a lot

• Bangalore, India
2 Feb 10
Hi Vathsala thanks for coming first and sharing your experience.. Several people have their own methods to keep themselves occupied with some thing.. So how do you keep yourself busy when you are free.. Please share with me..

• Bangalore, India
2 Feb 10
Great you have got so many methods to keep yourself occupied.. yes I agree normally household chores also takes lots of our time.. so that we can be busy our self..

• Lapu-Lapu City, Philippines
2 Feb 10
if i am at home and does nothing and i just play with the kids if it's still early. i don't want to just lay down and do nothing and if it's daytime, i look for things who seems to be unattended for a long time, like repairs on some parts of the house or cleaning the appliances that needs to be dusted.

• Bangalore, India
2 Feb 10
Hi Neildc.. How are you? and hope your son is alright now.. since I was absent here from a long time I could not keep track.. Thats really nice that you spend time with kids and also do unattended works at home.. I really appreciate that.. Thanks for sharing..

• Lapu-Lapu City, Philippines
2 Feb 10
you really have to back-track my posts, hehehe. well, my son is doing well so far. with the medications that will last for 6 months, he can already sleep at his back and we feel that he is breathing better now. you can check my posts or visit my blog at: http://neildc-magiting.blogspot.com

• Bangalore, India
3 Feb 10
Thats good to know that your son is recovering.. sure I will check it out..


• Bangalore, India
3 Feb 10
Hi good plans.. Thanks for sharing..

• India
5 Feb 10
yeah ! it is true dat an empty mind is a devil's workshop. when i have nothing to do and when i start thinking abt really irrelevant things, i knw i'm on the wrong track. usually, when i feel so or when i feel bored, i read, i go online and try to spend time talkin to mom :-) have a great day

• Bangalore, India
5 Feb 10
Hi Thanks for sharing.. Talking to Mom is also a good idea..

• India
3 Feb 10
whenever I am fed up of anything and I don't like that thing...or feel something that its not proper, i soon go away from such things...i try to be totally away from it though i have to try hard....mylot is also one of the way i have selected to keep myself busy ...and keep myself away from domestic disputes and small fights...when we are free, unnecessary things keep peeping in our brain..and that may lead to tension, stress or it may come out in some other harmful form.

• Bangalore, India
4 Feb 10
Hi eshaan.. Yes you are right whenever we are free unnecessaray negative thoughts pops up in our mind.. so to be away from them its better to keep our self busy.. Thanks for sharing dear..

• Philippines
3 Feb 10
i've had a tough training in school when i was in high school since i was a part of the top section of students. i'm used to doing something all the time and even though am not working, since i chose to stay at home and be a full time mother (which i believe many women should opt for if they could) the words of wisdom of one of my teachers is still in my mind: not doing anything? do something to make yourself better. in my case i feel good when am being productive online. so far i have a good amount in my paypal considering am not working...

• Bangalore, India
4 Feb 10
Hi Ritchelle.. Good to know that you are full time mother.. its good to spend most of the time with kids.. I appreciate that and I will also spend most of my time for my kids when I will be a mother.. Thanks for sharing dear..

• Philippines
2 Feb 10
I always play chess so that my mind is not empty. My favorite opponent plays with me all the time and I always win against him by a little margin. Once 64-44 then now 23-21. I have to keep busy mylotting so that I avoid being empty headed. I always eat my breakfast so that I get enough energy to think. And better yet, I always get to read a lot of literature from the internet and also how-to articles. Its not enough to be good at a game and not have other knowledge.

• Bangalore, India
2 Feb 10
Hi friend.. Thats great you keep yourself busy with some or the other thing.. I appreciate your ideas.. playing chess makes our brain think more and keeps it busy.. and also reading also helps to gain new information.. Thanks for sharing friend..

• India
2 Feb 10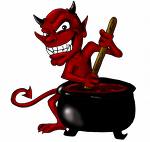 The human mind never stops working. It keeps churning out some odd, some good thoughts all the time 24*7*365. Even when you are sleeping the mind has its own workshop churning out thoughts in the form of dreams. These thoughts are not at intentional but if one is bound to think and ponder on it, the thoughts may be seriously affective on ones behaviour.... The label hence "Empty minds are Devils workshops".. Empty minds can generate thoughts on a particular incident occured or intended to be occuring in the near future. Strategic consultants in any organization are said to be stressing on this power of the human mind to put up strange ideas which could eventually work out for the organization. The content purely, according to me, depends on the intentions of a person. Imagine this, you had a small brawl with a good friend of yours, the very night thoughts start sprunging up in your mind citing all the possibilities of your fight and the consequences or in the other case you might eventually find your friend coming up to you the next day for apologizing. The thoughts came to your mind only when you were free from other thoughts. Even imagine a case, where you think a person is cheating on you can be provoked in your thoughts in an empty mind state. In this case, you might come with strange solutions and sometimes even destructive. In the end, you might come to know that, that person never tried to cheat on you but your empty mind intended to think so. This may create negative energies between you and that person. But in this case, thers a catch too, you might think that if that person was really cheating, it was good that you thought about it in its early stages. Now, the motive of this post would be to be aware of the state of an empty mind and eventually think twice before any step is taken on the basis of the output from the devils workshop!!

• India
2 Feb 10
i never felt that quote is right. but yes i agree that it makes sence when it comes to acquiring knowledge. i mean, empty in sence "without knowledge" so that might be a devils workshop. but as you have mentioned here, if you manage to keep a blank mind for a few moments in daily life, it is a great feeling! instead of thinking about the daily stuffs like family,work,etc etc. i think i would continue to have the blank mind for longer. lol but it is very hard to have a completely blank mind. err.. it might look like im going off point, but thats what i think, at some times in day i try to make my mind blank, it makes me feel relaxed :)