What do you Want!!

United States
February 2, 2010 9:13am CST
WIth the upcomming holiday just around the corner I have seen many discussions people asking what would be a good gift or what are you getting your partner, blah, blah, blah. I don't want to know those kind of things I want to know what you want for valetines, or what your hoping for! Then it would be exciting to come back later and see if you all got what you wanted. I don't just want to hear from females either, guys I'm sure there are things YOU want for valentines, you can share even if its as simple as seeing your partner in a teddy :) So lets tell everyone what YOU want
4 responses

• United States
2 Feb 10
Anything would be nice, hope i at least get a card from my son & grandson. I want hold my breath, lool. Hope everybody gets something nice.

• United States
3 Feb 10
I love cards that are made by kids. I think they come mostly from the heart! I'd be happy if my kids grabbed a piece of paper,folded it and half and scribbled on it. It's the thought that always counts!

• United States
3 Feb 10
Very true, i have kept everything my sons ever made me & now i have started saving things from my grandson. Love them all.

• United States
2 Feb 10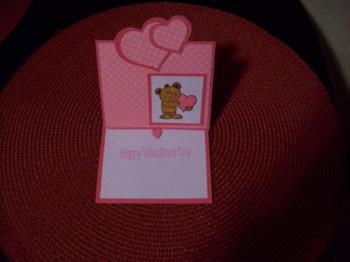 I don't have anything that I want....but then again I don't have a partner or for that matter a sweetheart...my valentine will be my grandkids.....and I don't even usually get a Valentine but send them some....my little granddaughter that is close though will be getting a valentine package from me....with buttons and a new heart punch....she is four...and loves doing crafts.....oh and I got my valentines ready to send! So I probably won't get anything for Valentines...but that's okay. I love giving to the kids!

• United States
3 Feb 10
That is very sweet of you! 4 years old and into crafts already, she is going to be a very creative girl! Good for her!

• United States
2 Feb 10
I just want a teddy bear, like we got each other last year. Something that says "happy valentines day". Nothing fancy, flowers would be fine, but at the same time it doesn't matter either way, if not flowers maybe some chocolates, but I don't need those either!

• Philippines
5 Feb 10
"I want you, I want you so bad, it's driving me mad it's driving me mad" Someone singing that to me would be enough. But he really should have a good voice or it doesn't count. I have a new crush, Asher Book---the guy from Fame--him singing to me would be fabulous! Also a brand new Ipad wouldn't hurt. harhar.