Who is the best CHINA or U.S.A.???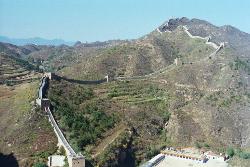 Romania
November 15, 2006 12:02pm CST
8 responses


• India
15 Nov 06
Because US is still the place where money is... And moreover US is often associated with many utopian dreams, which the media doesn't tire of playing over and over, and Hollywood flicks do it to an extent of causing Nausea! No wonder people flock to the US!!


• India
15 Nov 06
It's a difficult question actually... But comparing Chna, which is still not in the same bracket as the US, is wrong! China, being communists, have their own advantages and look set to overhaul all the economies on this planet. But I'd say India id the country to look out for. Because, the current growth trajectory will show that India is slowly catching up with it's Traditional Neighbor!



• Romania
15 Nov 06
USA has terrorist Goverment so my money are on China now hmm and most electronics are made in China as far as i know...