Am I the Only One with a Sock Obsession!?

Murfreesboro, Tennessee
February 5, 2010 2:05pm CST
All right, so right now I have banned myself from my favorite sock-buying website because I can't afford to waste any money! But as a result I am craving some kind of outlet for my sock addiction, hence this discussion? Do any of you mylotters out there absolute love socks? Cute socks, silly socks, toe socks, tabi socks, knee highs, thigh-highs, etc?? Right now my favorite pair is a set of thigh-high striped plum-and-lilac ones from a company called sock dreams. I actually don't wear them thigh-high because my legs are a little big, instead I wear them scrunched down just below my knees with sock garters, usually over a pair of tights with a skirt. When I wear them to work, I get loads of compliments and 'where did you get those?' So if you're a sock junkie like me, where do you buy them, and what's your favorite pair?
5 responses

•
6 Feb 10
I rarely wear socks, come rain or snow sandals fit my feet all the best urban

•
7 Feb 10
It's wearing socks that makes your feet cold! all the best urban


• Murfreesboro, Tennessee
5 Feb 10
lmao I suppose it is! The funny thing is that I really don't care about clothes in general, and I definitely don't care about shoes and handbags. But the sock obsession can get expensive too, especially for nicer ones! I've spent $50 or more on a website buying socks at a time!

• Australia
6 Feb 10
omg $50 for a pair of socks, thats amazing.....I look at socks as something to keep my feet warm or to help make sports shoes more comfortable...hahahahaha

• Murfreesboro, Tennessee
6 Feb 10
No, not for one pair of socks, for an order that had several pairs of socks in it! But at one time! I think it was five pair or so really, because I had a couple that were more than ten and a couple that were a little less than ten. The ones I really like do tend to hover around $10 a pair though; thigh high socks, some of the nicer knee-highs, and fancy-patterned tabi socks (split toe to wear with sandals).

• Philippines
7 Feb 10
Oh so this all about the sock obsession. I don't know about socks as much as you do. I'm not really that picky when it comes to socks as long as it looks nice to me, that would be fine. And I rarely wear knee-highs, it doesn't suit here in our country whose temp is humid but I can wear just for a fashion, but really rare. And I rarely wear socks, I like more those open shoes, sandals, flipflops... so that's it.

• Murfreesboro, Tennessee
7 Feb 10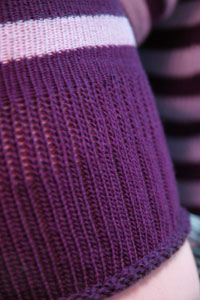 Hi! Thanks for responding! Yes, I really must be in the minority with the sock obsession then! I lived somewhere very cold until a few months ago, so I couldn't really run around in sandals. And where I live now it's 28 degrees Fahrenheit today, so it's still cool enough for tights and tall socks! Hehe, here's a pic of the design on my favorite socks!


• United States
10 Feb 10
Too funny, but if you have to have an obsession then socks are a great choice...LOL Actually I guess I have never thought bout it until your post here. In a sense when I think about it I could be seen as obsessive when I am shopping for socks. I only like certain kinds of socks. I love scrunch socks and they must be very soft and fitted. I have ugly toe nails, inherited from my mother they are ingrown from the base of the nail bed, thick and hard to trim. If my socks do not fit right across the top of my foot then my toes hurt. I pay more for well fitting socks that is a fact. I have a brand called Joc Sox that I get from HSN that are ultra soft, and I get them either thin or thick. Sometimes the choices in colors are very limited.