Another Tennessee Miracle!

United States
February 8, 2010 9:08pm CST

Well guys, the grounds are covered in snow once again. I am sure it will not las this time as it is still at 33 degrees.But since this is our 2nd snow of the year,I think a true miracel has happened here in the state! Prior to 2 weeks ago it had been atleast 6 years, and I wanna say 8 years since we had a snowfall. It is funny to see them out with snow plows, the stores sold outta bread,and all of the other things that people in New Tork, WV,etc.would laugh about.

But I like the snow,and it is very beautiful on the ground and trees.

Do you like snow? How much snow have you gotten this year?
6 responses

• United States
9 Feb 10
Here is Kansas we got the most snow this year that I have ever seen in my life time. I only saw snow when we moved here from Florida when I was 13. And it hasn't snowed that much the 13 years that I have been here. But this year it was almost up to my knees at one point. It just kept on snowing. I love how it looks but I hate how stupid people drive, and I am not good at standing the bitter cold. This year I have had enough snow. We got to go sledding. I really hope it doesn't snow anymore. I am ready for warmth!

• United States
9 Feb 10
I think it is so pretty and since it had been so long since we had seen any I really enjoyed it.I do not have a car so walking in it really bites.As we were walking home last night it beganto really poor downand mys on and I looked like Frosty! LOL! People here really cant drinve in the snpow,and the stores are crazy packed whenthey mention the oword.Hope you have milk eggs nad bread cuase the stores will be sold out!LOL! he is happy he got to make his snow angel though!

• United States
9 Feb 10
here in Idaho we got close to three feet altogether. We are expecting another six inches by the weekend. I am so tired of snow. I have already fallen twice and we have two squirrels who inssit living in our roof. It keeps me awake during the day. This morning it woke me up at 6am. My husband and I can not get to the side of the house to cover up the hole. I can not reach without a ladder and since there is so much snow I am afraid of falling down. I slipped on ice last year and broke my ankle and am afraid it may happen again.

• United States
9 Feb 10
Well hopefully the snow will miss you and will start to metl soon!!I guess after a while of seeing it it sdoes get tiring,and I know with squirrels living on top of the house it has to be very annoying.Good luck to you!!Be safe and dont break anything,and try not to fall!!

• United States
9 Feb 10
I like snow but this year we got piled on. Snowed from Friday to Sunday and now the wind is blowing. Been snowed in 3 times this year for a minimum of 3 days - longest was 5. I can deal with that, but loosing power is hard. We lost power for 4 days and had to move the kids to my daughters place. Going from a 5 bedroom home to a 2 bedroom appartment was an adventure I'm telling ya. I don't know how much snow we've gotten this year. There is still a 12 foot drift out by the barn and I can open my bedroom window (I'm on the main floor) and walk out onto a snow drift there.

• United States
9 Feb 10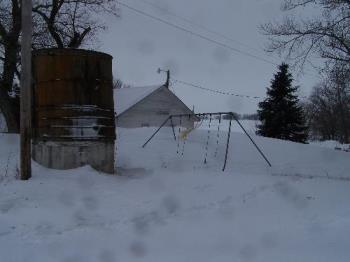 There's a pic of nice drift out the back door. My boys sure have had a blast this year playing and sledding. That swingset is one of those pipe swing sets you see at country schools. It stands 12 feet high so you can only imagine the size of the drifts we're getting out here.

• United States
11 Feb 10
I really do like the snow. I wish that we would have one snow up here this winter that was a sufficient snow to build snowmen and to go sledding with, but we haven't had that kind of snow this year. I hear that it might snow on us this weekend though, so I will continue to hold out hope. We live in Kentucky where we typically get at least some snow every winter, but it has been a couple of years since we've had the snow that is perfect for outdoor snow activities.

• Canada
9 Feb 10
Up here in the Pacific Northwest it only snowed once for the whole winter. That was on the first week of December. It lasted 2 days, and was mostly gone on the 3rd. I like to LOOK at snow. But that's about it, just look. Last year we had a ton and I hated it. I hated shovelling, I hated driving on it, and I hated how slippery it gets.

But yes erikmama. For a place that only gets snow once in 6 or 8 years, I hope you enjoy it.

• United States
9 Feb 10
Yeah, you guys got what I am getting right now....I grew up here near Chicago and the snow gets old in a hurry. I would probably would like it if it only snowed every 6 years....I am SICK OF THE SNOW!!!!!! They are talking about the snow stopping sometime tomorrow after noon and probably accumulate to up to 14 inches.... I have a 4 wheel drive truck but after a while...2,3,4,sometimes even 5 months of this crappy cold weather makes you not even want to go outside. Not to mention...it aint easy getting all that snow moved even with a snow blower...I am looking out the window as I type and, it's about time to do the first snow blow of the day...(get the driveway and walkway cleared) I'll probably have to do it several times....oh well, I have a good snow blower so it saves a lot of back breaking snow shoveling. I want to move to Tennessee or any place south of where I am. I would LOVE no more winter time!!!! Maybe someday....